Kylie Jenner went makeup-free on Snapchat, looked flawless
It's no secret that Kylie Jenner loves makeup. I mean, she owns her own line of lip kits (which are both high-quality and in high-demand) and she's set to open her own Kylie Cosmetics store. Yet, though she may be known for wearing and creating makeup, that doesn't mean Kylie's opposed to going makeup-free every now and again.
"No makeup Tuesday's," wrote Kylie, to caption her barefaced look on Snapchat last night.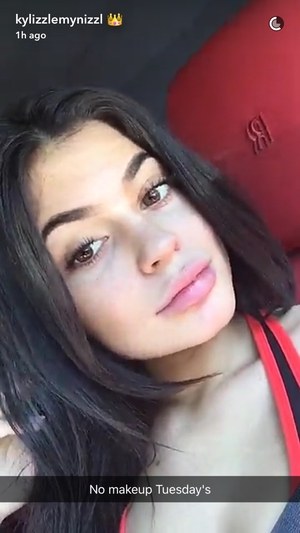 Kylie is clearly getting plenty of beauty rest because she looks FLAWLESS. Not only that – but she's also exuding confidence in the above photo, which is reminding us that self-esteem is one of the greatest accessories out there.
While this is Kylie's most recent makeup-free selfie, it definitely isn't her first. Last month, Kylie posted a relatable snapshot on Snapchat, revealing that she also deals with insecurities – especially when it comes to her freckles. However, earlier this year, Kylie demonstrated that she's also working to embrace every single part of her beautiful body (freckles included, of course).
"Saw someone comment why I don't embrace my freckles anymore," wrote Kylie, to caption the image below. "So here's a freckle appreciation post."
With or without makeup, Kylie is a beautiful young woman who demonstrates that confidence is key.