Fans are upset with Kylie Jenner, who advertised a waist trainer that's helping her "snap back" after giving birth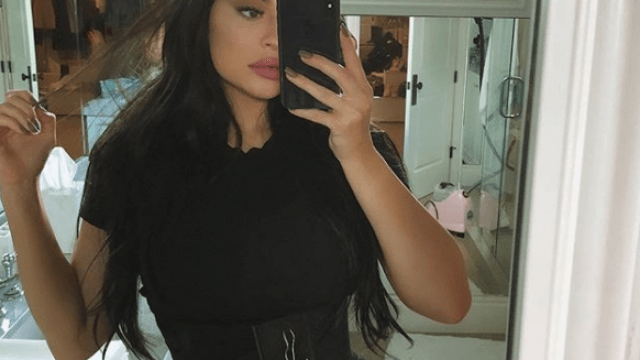 It's been less than two months since new mom Kylie Jenner gave birth to baby Stormi Webster. But the social media maven is already back on her #ad game and fans aren't pleased with her latest endorsement. Jenner has been called out for advertising a waist trainer company that advocates for a "snap-back" post-pregnancy body.
Jenner posted the selfie showing her Waist Gang Society waist trainer yesterday, March 19th. The brand is a favorite of the entire Kardashian-Jenner clan. Kim, Khloé, and Kylie have sported many a Waist Gang Society trainer on social media, numerous times, before Jenner's most recent post. But hopping back on the waist-training track so soon after giving birth is raising eyebrows among some of Jenner's followers.
"my girl @premadonna87hooked me up with the @waistgangsocietysnap back package. #ad waistgang has the BEST quality snap back products. make sure you get your package & follow @waistgangsociety to join & keep up the journey together," Jenner captioned her post.
Jenner's selfie once again feeds the narrative that new mothers can simply "bounce back" to their pre-pregnancy body just days or weeks after giving birth. And yes, some women can. But in many cases, bouncing back is not instantaneous, even though tabloids and social media like to make it seem that way. This pressure can cause emotional harm to new moms adjusting to their postpartum bodies.
https://www.instagram.com/p/BghB3j_g2Rl
In reality, waist trainers are not a lasting "snap-back" option. Caroline Apovian, M.D., professor of medicine at Boston University School of Medicine and a spokesperson for The Obesity Society, told Health.com,
"If you're going out and want to look really thin, I don't see a problem with wearing one of these for an evening." But as for lasting results, Dr. Apovian said, "In my opinion, that is complete nonsense." The trainers can actually cause more bad than good, she continued. Acid reflux, loss of strength, and displacement of organs are all possible side-effects of waist training.
Jenner's following is skeptical of the #ad for these reasons, among others.
Obviously, Jenner is allowed to take part in any endorsement deal she wants. But we can understand why this post could be disheartening to other new moms. Once again, we remind you to remember that not everything you see on social media represents the full truth.