Kylie Jenner said Stormi helped her embrace her body: "I want to be an example for her"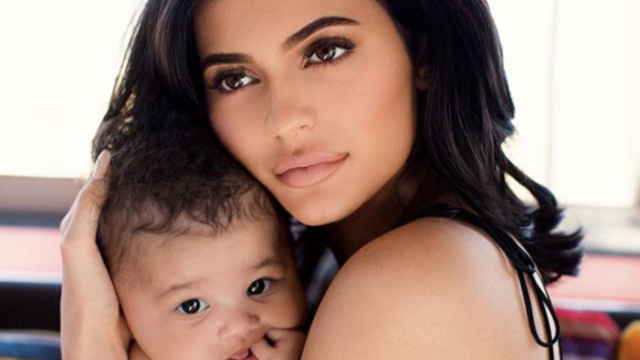 Kylie Jenner covers Vogue Australia's September 2018 issue looking all sorts of au naturel glam, but inside the pages, she opened up to interviewer (and older sis) Kendall Jenner on her journey to embrace her body and how motherhood played a huge part in that. Kylie has been incredibly candid about her struggles with body insecurities (specifically her lips) and said that having Stormi has brought about a self-love surge she didn't expect.
"I don't think my life has changed since becoming a mum," Kylie told Vogue Australia. "I think the way I look at life has changed since becoming a mum. I think more of the future. I used to live each day as it came, and now I look at the future more. I actually feel like I love myself more after I had Stormi. And I'm trying to be…I mean, I'm already a positive person, but just having fun, being positive."
She elaborated on this idea of "self-love," saying: "I feel like having a daughter, and thinking about beauty in the future, has definitely changed me, and I feel like it has made me love myself more and accept everything about me."
Kylie used her ears as an example, a body part she admitted in a recent YouTube Q&A that she's struggled to embrace.
"Even my ears, I always felt like they stuck out too far, and she [Stormi] has the same ears as me and so now I love my ears," Kylie confessed. "It's just having a different outlook on life so I can pass that on to her. I want to be an example for her. What kind of example would I be if she said she didn't like her ears, and then I didn't like them either? I just want to teach her that. I'm trying to love myself more.
https://www.instagram.com/p/BmlgH3dleNO
https://www.instagram.com/p/BmlhCeDFD0y
Kylie recently had her lip filler removed and debuted a smaller, more natural pout—something she reportedly decided to do after ditching filler for her entire pregnancy.
https://www.instagram.com/p/BmRYfLPl7Nv
Kylie is entitled to plump or inject whatever she wants, but nothing is more beautiful than self-love, and we're happy she's finally found it.