Kylie Jenner tried out a brand new hair color, and it's making us nostalgic for neon highlighters
Let's be honest here — Kylie Jenner could very well rock neon hair. In fact, Kylie Jenner can (and does) look amazing in pretty much all hair shades. So, it's no surprise that when she decides to go bright yellow, it's a total win.
Of course, Jenner still played it a little safe — just in case. The hair has been said to be a wig, an item that Jenner utilizes quite often.
Still, wig or not, the bold look definitely had fans take notice. (It's hard not to, based on the brightness!) We've seen a lot of pinks and blues on our favorite celebs, but yellow is definitely not too common. For now, at least.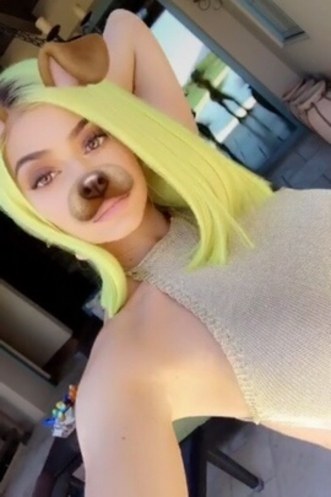 She unveiled the look, which she's rocking for Coachella on Snapchat, along with the infamous dog filter. The wig actually has roots built it, which makes it look more natural.
However, fans who have spotted Jenner out recently noticed she was a brunette not that long ago, and that kind of severe bleaching in one day would not leave her hair looking as gorgeous as it is in the snap. (Even though Jenner probably has a better hair team than most, hair still has a pretty severe reaction to over-bleaching!)
She also posted some pictures over on Instagram, letting us see the yellow from all angles.
https://www.instagram.com/p/BS4hZPVhqlQ
https://www.instagram.com/p/BS4iqxRBgpn
And in case you were curious about how her hair looked in the midst of a burger chow-down, she also posted this fun Boomerang.
https://www.instagram.com/p/BS4sSKuh_Tz
Last year, Jenner prepped for Coachella by wearing rainbow-colored braids, so she definitely equates the festival with bright new styles.
We have a good feeling that Jenner's new hue will inspire a bunch of hair enthusiasts out there. Even though it's probably temporary, it's definitely great for turning heads.