Newly blonde Kylie Jenner wears *just* a trench coat and looks like an old Hollywood noir star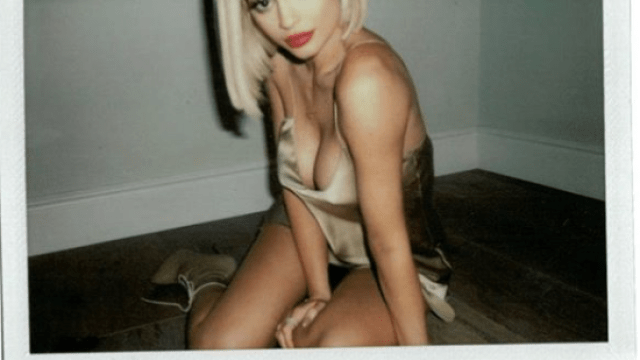 What do you throw on when you're feeling like an old school femme fatale? How about when you have absolutely nothing else to wear because it's laundry day? If you're Kylie Jenner, the answer is a khaki trench coat, and that's it. It solves both problems: in one easy step, you're clothed in one simple garment and you're left looking like you just stepped out of Casablanca. Kylie had herself a mini-Polaroid photoshoot, posted to Instagram (isn't the point of the Polaroid to have a single, precious, tangible copy of a photo — you know what? Nevermind), showcasing her epic curves in naught but a newscaster-y trench. Rain or shine, this girl's gonna flaunt it.
Blonde Kylie and this sexy trench are hitting one single color note and we do not mind.
https://www.instagram.com/p/BPN9jqOBz_N
The blonde chop, the perfect pose. Sorry Kylie, we know this shot wasn't an accident. It's too perfect!
https://www.instagram.com/p/BPN9gleBHl9
Are these the coveted clear Yeezy heels strapped to Kylie's feet or is our girl up on her tippy toes? You know the Kardashian-Jenner crew knows all the ways to pose to make the most of every shot, so a flexed bare foot for the sake of flaunting some killer legs isn't exactly out of the question.
https://www.instagram.com/p/BPN9oLqhzCI
Now here's a real meta photo. Here is Kylie, in an Instagram shot of a Polaroid, looking through a pile of more Polaroids. The only thing better would be a digital pic of a phone that had this shot up on its screen. Too many layers for a photo of a lady in just one layer, herself.
Can we really be angry if the girl makes an average raincoat look like some steamy lingerie? No, no we can't. We just hope she's not mistaken for a flasher once she takes this look outside.