Everything you need to know about Kylie Jenner and Travis Scott's relationship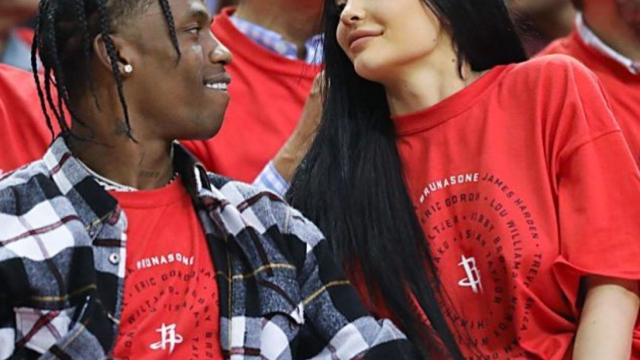 Ring the alarm: Kylie Jenner has announced the birth of her baby daughter, which will be her and boyfriend Travis Scott's first. Everyone is in a frenzy now because there has been much speculation about Jenner's pregnancy, which she intentionally kept super private. Not only did we know very little about the pregnancy (it wasn't even confirmed by her until today), but we didn't know much about her and Scott's relationship, which feels strange, since we're used to knowing pretty much everything about anyone in the Kardashian-Jenner family.
Here's a timeline of events in Jenner and Scott's relationship.
After Jenner and Tyga broke up in early April, her relationship with Scott, a rapper who recently toured with Kendrick Lamar, seemed like a rebound at first, but quickly became quite serious.
Coachella: April 16th, 2017 — It all started with Coachella, the California musical festival (Scott performed). He and Jenner were seen holding hands, and even though they had reportedly been friends before the music festival, they were "super flirty" at the concert, according to TMZ.Dating rumors began after some videos of Scott and Jenner holding hands surfaced.
NBA playoff game: April 25th — Only a week later, Jenner was spotted with Scott in Houston for the Rockets-Thunder playoff game. The couple appeared to be getting cozy together, but as a source told E!, "It's a fling right now. It hasn't developed into anything yet but they are feeling each other for sure."
Boston/NYC: April 30th —Kylie attended Scott's performance at a college in Boston where paparazzi caught their PDA, and it seemed like more than "a fling" at this point. That same weekend, Kylie attended the rapper's birthday party in NYC; Bella Hadid, Cara Delevingne, and Kendall Jenner were also in attendance, according to People.
https://www.instagram.com/p/BThxk9DBJFu
Met Gala: May 4th —Jenner and Scott were photographed together at the Met Gala along with a bunch of other people. They seemed "official" at this point.
https://www.instagram.com/p/BTqC7rFhBbq
Wedding rumors: Early June — Things quickly escalated in June. First, People reported that the couple had had an "affectionate" dinner in Miami, then a tabloid wrongly reported that Scott and Jenner had a private wedding in Calabasas. Extra cleared up that rumor after learning from Jenner's friends that it was false, but they did report that Kylie and Travis were "already talking about having kids." Hmm, interesting.
Matching tattoos: June 13th, 2017 — Just three days after Extra busted the wedding rumor, Jenner and Scott both shared pictures of matching butterfly tattoos on Snapchat.
Khloe Kardashian's birthday party: June 25th, 2017 — The rapper and makeup mogul attended Khloe Kardashian's 33rd birthday party together in Los Angeles and, according to People, they showed off their matching tattoos. They were apparently very affectionate and visibly in love. Aw.
Kylie's birthday party: August 10th, 2017 — Even though rumors that the couple had broken up spread in early August, Kylie's 20th birthday party proved they were as in love as ever. After Jenner watched Scott open for Kendrick Lamar at the L.A. Staples Center, she was surprised by the rapper and her family. The intimate party had a few accoutrements, which, according to E!, included a chocolate fondue fountain, a sheet cake decorated with a photo of Kylie, and an ice sculpture of a naked woman's body, apparently modeled after Jenner's.
A cute Snapchat from the event shows Kylie immediately going to hug Travis.
And here's the ice sculpture (because we know you were curious):
E! reports that the rapper gifted Jenner a diamond necklace for her special day, oh, and an orchestral performance, too.
The big news: September 22nd, 2017 — On a Friday afternoon, news that Jenner and Scott were expecting a child together came fast and furious. Really, looking back at the whole timeline though, it doesn't seem too surprising. Plus, Jenner posted this picture on her Instagram the day before the news broke:
https://www.instagram.com/p/BZT9rWVl-Dz
Up until now, the couple has remained quiet on social media, but we have a feeling we're going to be seeing a lot more of them together, especially after watching this mini-documentary Jenner posted to YouTube:
https://www.youtube.com/watch?v=BhIEIO0vaBE?feature=oembed
Congrats, Kylie and Travis!