Kylie Jenner's latest Instagram photo shoot in track pants and a cropped sweatshirt is proof that ~old Kylie~ is 100% back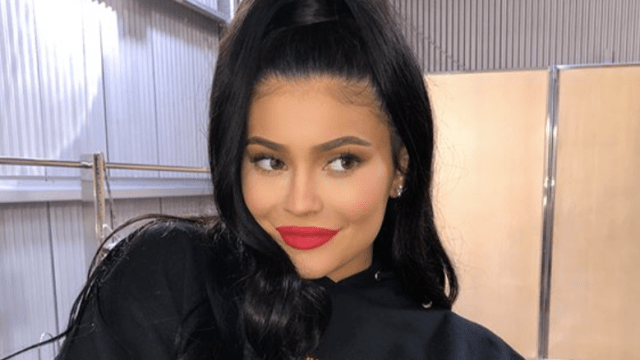 Ya girl Kylie Jenner is BAACCCKKK. Since the birth of her daughter, Kylie has been back on social media posting photos of Stormi and sharing post-baby selfies in her underwear. But the Kylie we know and love, the Kylie who wears sweatpants with a full face of makeup and takes a series of selfies next to fancy cars is back! Kylie just uploaded a bunch of photos from what looks like a studio lot, and in the photos she kept it casual with a cropped long-sleeved sweatshirt and tear-away black and white track pants.
Kylie has made no secret of her desire to return to her pre-baby body, literally uploading an old bikini selfie and calling it "summer goals." The internet can't handle her incredible post-baby body, and more power to Kylie on her fitness journey.
As much as we are all YAS KWEEN, GO KYLIE, there is no one "correct" way to embrace your post-partum body. Lose the weight, don't lose the weight, embrace your belly, take selfies in crop tops, never wear a crop-top. Do you, is what we're saying. As for Kylie, she is most definitely living her most authentic life two months after the birth of her child.
Also, shoutout to that tiny quilted Chanel backpack.
https://www.instagram.com/p/BhIh9Z2AT9O
https://www.instagram.com/p/BhIiIuSgeK-
https://www.instagram.com/p/BhIitxWAJlu
Since the birth of Stormi, Kylie is back to her usual social media antics, and she did spark a bit of criticism when she endorsed and announced that she's using controversial waist trainers. Not only were fans upset with her for promoting the narrative that one must get back to their pre-pregnancy bodies immediately, but waist trainers aren't that safe and can actually do more harm than good to your body.
While her social media snaps indicate that she is loving motherhood, we hope she's also safely navigating her way through it.