Kylie Jenner and Daughter Stormi Twinned in the Most Festive Pajamas—Shop the Look on Amazon
You can find us living in this matching set until Christmas is over.
Although we've yet to roast our Thanksgiving turkeys, that hasn't stopped anyone from diving into the Christmas spirit early. Case in point: Kylie Jenner and her daughter Stormi Webster got festive in matching Grinch pajamas while baking green cupcakes in a video posted yesterday, November 19th. And although we typically wait to whip out the holiday garb until after we've stuffed ourselves with pumpkin pie on Turkey Day, the mother-daughter duo is inspiring us to deck the halls early.
In the adorable baking video posted to Jenner's YouTube channel, the pair is wearing green and white striped pajama sets with grinning Grinches on the front of their shirts. We can already picture ourselves in front of a similar Christmas cookie set up or cuddling up on the couch in these PJs. If you see us in December, we'll probably be wearing this set.
At first glance, you'd think Jenner and her mini-me were just embracing the holiday cheer, but the look was also a promotion for Jenner's new makeup line, Grinch X Kylie, which dropped yesterday and sold out in less than 24 hours. Merry early Christmas, Kylie!
Luckily for us, we found the duo's exact pajamas on Amazon, so we can cop their look and channel our inner Grinches, stat. Shop Jenner and Webster's grinch pajamas in both kids and adult sizes below.
Hanna Andersson Dr. Seuss Grinch Kids Pajamas
$48
Shop it
Amazon
If you're looking for an even more festive pajama set, Hanna Andersson also offers these red and green Christmas pajamas with the Grinch dressed as Santa.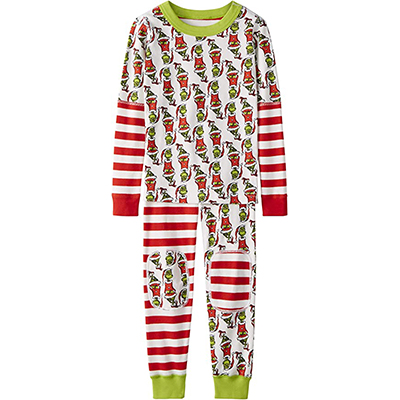 Hanna Andersson Dr. Seuss Grinch Kids Pajamas
Shop it
Amazon
Watch Jenner and Webster whip up some Grinch cupcakes below.
Merry Christmas, Grinches!