Kylie Jenner is bringing back the side bang, and this whole look is very 2009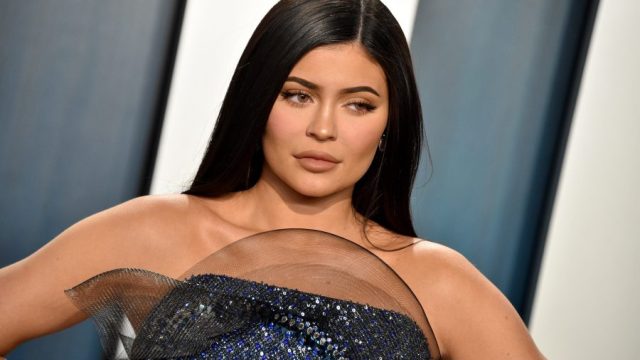 It's no secret that Kylie Jenner loves a throwback look. She frequently sports trends from the '80s and '90s with an updated twist, despite having been born nearly a decade or two after these styles were popular. (Sorry if we just made you feel super old!) In a new Instagram post, Jenner just brought back side bangs, and it's truly the nostalgic beauty moment we never expected to pop up in 2020.
On Wednesday, May 27th, the beauty mogul shared a series of selfies showing off a quarantine glam session. In her caption, she wrote that she's "pretty good at this makeup thing," and we'd have to agree. The pink-and-bronze combo on her eyes is expertly blended. And while her makeup does look totally on point, it's her hair that we can't stop gawking at.
In the pics, Jenner rocks a super-high bun complete with a sleek side bang, proving that 2009 is officially back and better than ever. Break out your Sidekicks and iPod Nanos, people.
https://www.instagram.com/p/CAqX7UyHxlY
In fact, all of Jenner's hair looks during quarantine have been equally throwback-inspired, proving that when it comes to trends, what's old is somehow always new again.
For example, check out the chunky blonde highlights she's been serving since April. Are you also being reminded of your Sun In days, or is it just us?
https://www.instagram.com/p/B_aXwvxHCUu
And scope the '90s-inspired pigtails with the two-piece bangs left loose on each side.
Baby Spice called and said she is loving the return of her signature look.
https://www.instagram.com/p/CAdyftHHDrU
Jenner is certainly known for mixing up her look on a dime, so we truly don't know how long she'll keep her side bangs for. But we're certainly going to appreciate them while they're on full display, even if we're instantly transported back to our days playing Farmville and obsessing over Jacob versus Edward. Simpler times indeed!