Kylie finally opened up about the meaning behind the ring she's wearing on *that* finger
We were about to send out wedding invitations on behalf of new mom Kylie Jenner. The Keeping Up with the Kardashians star has been flaunting a diamond ring on her engagement finger, and fans are wondering if they should pick out wedding outfits. But Kylie opened up about the meaning behind the $450 ring, and it looks like we can save our pre-wedding jitters for another day.
Kylie snapped a photo of the ring, which flaunts the initials "JW" arranged in diamonds, and posted it to her Snapchat. In small text at the bottom of the image, Kylie wrote, "Jacques Webster & Jordyn Woods. Real Ones, Ok.."
If you're still like, uh who in the heck is Jacques Webster, Kylie? Is this a new man in your life? Don't fret. Kylie's boyfriend Travis Scott's real name is Jacques Webster. And Jordyn Woods is, of course, Kylie's BFF. The ring is an ode to two of the most important people in her life, and that honestly couldn't be sweeter.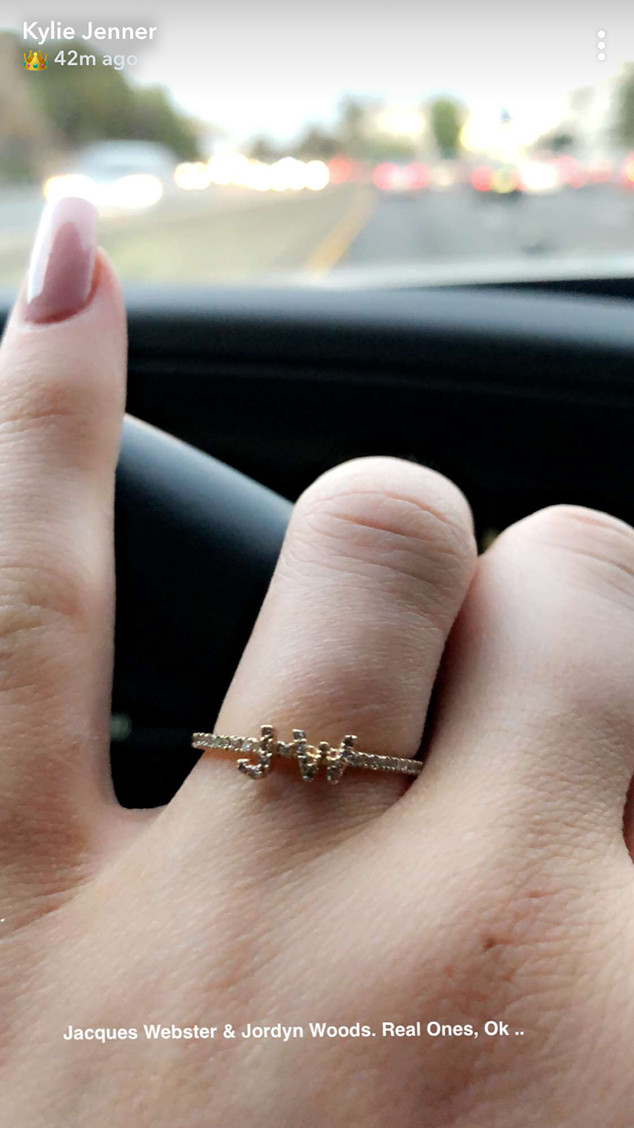 According to E! News, XIV Karats in Beverly Hills later confirmed via Instagram that they helped the reality star craft the piece. They offer similar customizable rings in 14kt gold, white, or rose gold, and the initials one chooses can be done in white or black diamonds.
When Kylie posted a photo of herself and daughter Stormi on Instagram last week, fans immediately honed in on the ring and engagement rumors sparked. But we should know by now that the Kardashian-Jenners have a flair for the dramatics.
Although…Kylie's Snapchat didn't say that she wasn't engaged. Hmm…
https://www.instagram.com/p/BfzEfy-lK1N
As with anything having to do with the Kardashian-Jenner clan, we'll just have to wait to see what ~really~ happens. Whether she's engaged or not, we love Kylie's ring and the meaning behind it.