Kylie Jenner revealed her thoughts on the "Kardashian Curse"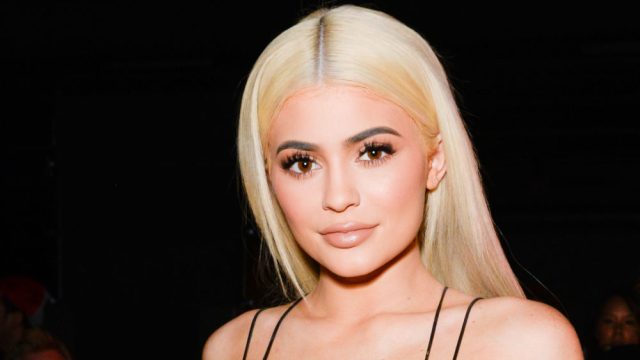 In the upcoming August 2018 issue of GQ, Kylie Jenner and partner Travis Scott appear in their first joint photo shoot as a couple. The reality star-turned-beauty industry mogul and her rapper beau welcomed a baby girl into the world in February after almost a year of dating. The high profile duo caught up with GQ to talk relationships, family, and love, and both Kylie and Travis shared their thoughts on the dreaded "Kardashian Curse."
In a 2016 episode of Keeping Up with the Kardashians, Kourtney Kardashian's long-time on-again-off-again partner Scott Disick hired a medium in an effort to rid himself of the "Kardashian Curse." Disick claimed the curse affects the men who dare to enter the lives of the Kardashian women — relationships fizzle and men are repeatedly kicked to the curb.
Kylie explained to GQthat although her sisters found the idea of a curse "offensive" back in 2016, she thinks there's some truth behind it. She agreed that the men who enter the lives of the Kardashian women aren't built for their "level of celebrity," as GQ's Mark Anthony Green put it.
"That's exactly what it is," Kylie said. "They come and can't handle it."
However, she clarified it's not just guys – it's everyone. "But it's not just men — it's friends," she explained, "It's people who come and just don't know how to handle it. It's the negative. There's a lot of people who love us, but there's also a huge handful of people who don't like us."
GQ then asked if Travis felt the pressure of the fabled Kardashian Curse.
"I don't even be looking at motherf-ckers," he told the magazine. "I don't be looking at sh-t. Kylie actually likes me for me."
"I want him to do his own thing," Kylie added. "I want him to be him. I don't want it to be Kylie and Trav. If people don't ever see us together, that's okay with me, because we just do our thing."
We're glad to hear that neither star seems all that affected by the rumored "curse," and that they're just doing their thing. Now excuse us while we root through the KUWTK archives for the ep where Scott consults that medium — we're fairly certain there was a chicken involved.