Kylie Jenner released a pic of all Lip Kits she never created, we drool
Kylie Jenner's cosmetics company, Kylie Cosmetics, is slaying in the makeup world at the moment. The last restock, which included new shades Kristen and Maliboo, sold out in 8 minutes flat. While Kylie has released a wide array of colors over the last several months (20 mattes and 7 glosses), it turns out there was a lot more behind the scenes that never came through to be sold on her website.
She took to Snapchat to show her fans all the lovely shades of lipstick that were never released, and OMG are they amazing.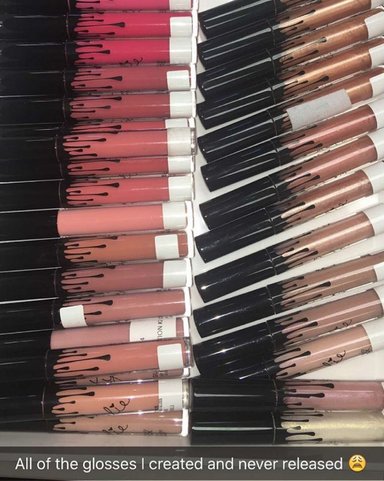 There are so many of them. How could none of them be made available to the Kylie fan world? How could we be deprived of such a thing?! Please, Kylie, tell us.
There are so many nudes there, proving that Kylie is committed to creating the most bomb nude lipsticks in a world that's obsessed with bold colors. I love that about her line of Lip Kits. They're neutral but noticeable, which make them wearable on a daily basis.
Maybe Kylie will pleasantly surprise us all and release one of them. Even if she doesn't, though, I'm sure there will be no shortage of new Kylie Lip Kit shades in the near future.
https://www.instagram.com/p/BIDzQscA-w5
Here's hoping that Kylie keeps doing her thing in the lab.