Kylie Jenner just revealed the heartbreaking reason behind her decision to get lip injections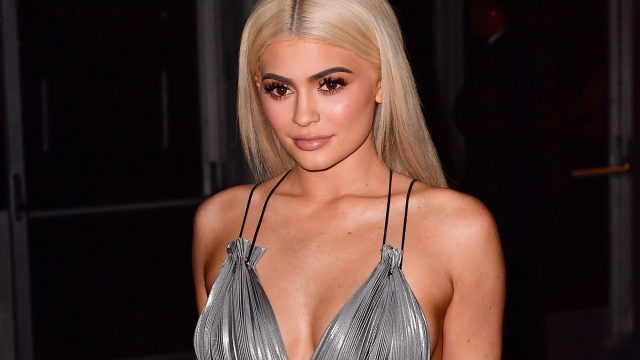 Even though she's been on TV for nearly half her life, having grown up in one of the most famous families on the planet with millions of people watching, Kylie Jenner is only 19 years old. We imagine living life that way wouldn't be easy for anyone – adding the pressures of social media commenters and their often mean-spirited remarks, and it would make most of us want to crawl under a rock and hide.
But that hasn't stopped Kylie from growing into her own person and carving out her own identity. She's a full-fledged beauty icon who's creating a burgeoning makeup empire with her line, Kylie Cosmetics, and its most popular item, the Kylie Lip Kits.
Yet, though Kylie is known for her pouty selfies and ever-changing beauty looks, she admits that she wasn't always so confident in her look growing up.
https://www.instagram.com/p/BLPNe6RBDNs
In the October/November 2016 issue of Complex magazine, Kylie revealed the heartbreaking reason behind her decision to get lip injections, and it makes us feel so sad for her. After rumors circulated in 2014 that she'd gotten lip injections, Kylie initially denied them, saying she merely filled her lips in with lip liner to make them appear fuller. But it seems she got lip injections due to a lifelong insecurity, and we can totally relate.
Kylie told the magazine that it manifested when she was in middle school. She said,
"This guy I kissed was like, 'Your lips are really small but you're a really good kisser. I didn't think you were gonna be good at kissing. It was so rude. From then on, I just felt like I saw guys staring at my lips. I felt like no one wanted to kiss me."
https://www.instagram.com/p/BLbo5iVhU9K
As for why she initially lied about getting injections? She feared letting young fans and parents down.
"I wasn't even 17 yet," Kylie admitted. "What if I came out and said, 'Oh, yeah, I got my lips done'? What are all those moms going to think about me? These kids, my fans, they're going to think I'm crazy. I didn't want to be a bad influence. I didn't want people to think you had to get your lips done to feel good about yourself. But they thought it was crazier that I was lying about it because it was so obvious. I wish I had just been honest and upfront."
At the same time, Kylie feels she went overboard in the beginning, though she does still get lip injections. She stated, "When you first get them done, you're like, 'Oh, it could be a little bit bigger on that side.' I'd go back and be like, 'They went down' and think they could be bigger. But I went too far. It was very painful."
"It's annoying to hear every day that you're just this fake, plastic person when you're not," Kylie asserted. "Every single day there was a news story about me.
Kylie says she also faced intense anxiety around when the #KylieJennerChallenge became an internet phenomenon, in which teens used dangerous and scary methods like sucking on a glass to temporarily plump their own lips.
Kylie revealed,
"I used to have a lot of anxiety. I never went out. If I tried to go to the movies or something, I would stop breathing in the middle and just cry. I'm surprised there aren't videos of me out there. I felt super trapped, like everybody was watching me. I felt like everyone was hating on me."
As one of the biggest beauty icons around right now, Kylie can give those guys from middle school and all the online haters a big kiss off. She's the one having the last laugh now, and we couldn't be more thrilled for her.