Kylie Jenner posted a special photo with baby Stormi on her one-month birthday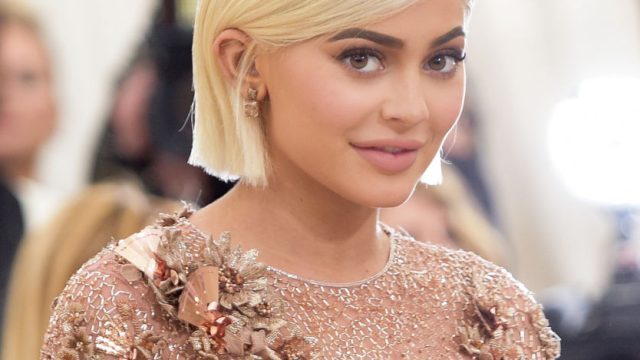 Another day, another moment when Kylie Jenner makes us stop everything and focus on her insane celebrity life. On March 1st, Kylie posted not one photo — but two! — of baby Stormi on her one-month birthday. ICYMI: On February 1st, Kylie and her partner, rapper Travis Scott, welcomed a baby girl into the world. This was after months of speculation, so it's no wonder that Kylie, Travis, and their newborn completely overshadowed the Super Bowl when Stormi's birth was announced on February 4th.
Following Travis's Snapchat cue — Stormi was wearing a sweater featuring a heart that read "Daddy" — Kylie went ahead and posted a photo of herself cradling Stormi in honor of the little girl's special birthday. On his Snapchat, Travis wrote, "My lil mama 1 month today…her favorite unit of course." As for Kylie, she posted the following alongside her Instagram photos:
"my angel baby is 1 month old today"
In the first photo, we see Kylie wearing a camo jumpsuit while holding her little girl. The second photo is the same, but it gives us a closer look at Stormi, who appears to be sleeping in her adorable bunny jumpsuit.
Happy one-month birthday, Stormi!
https://www.instagram.com/p/BfzEfy-lK1N
In response to Kylie's Instagram, Travis commented, "gang on gang." So it would seem that both Kylie and Travis are adjusting well to parenthood.
In addition to these adorable photos, Kylie also gave followers a Stormi update on February 21st. When a Twitter fan asked, "How's Stormi?", Kylie actually responded:
"she's good. still staring at her all day. she looks just like me when i was a baby."
We're glad to hear (and see!) that Kylie and her daughter are happy and healthy. We are wishing them nothing but the best as they learn and grow together.