Instagram can't believe how amazing Kylie Jenner's post-baby body looks in her latest selfie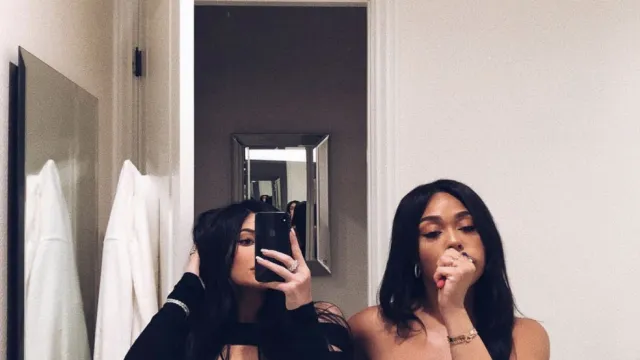 It's only been a little over a month since Kylie Jenner gave birth to her daughter Stormi, and the reality star is already back to posting the Instagram selfies we all know and love. Throughout her pregnancy, Jenner took a bit of a social media break. We didn't get to see her selfie videos or any new photos of the star. When she shared a post-baby underwear selfie to celebrate one month with Stormi, the internet all but exploded. And now, Jenner is back with another post-baby selfie.
Instagram users can't believe how amazing Jenner looks in her latest Instagram pic. And honestly, we can't blame them for freaking out. She looks amazing. The photo is a classic mirror selfie. She's standing next to her best friend, Jordyn Woods, and wearing a classic Kylie all-black ensemble: a crop top that allows some of her stomach to peek out. While this is far from the most revealing shot Jenner has ever posted, it's great to see her looking good so soon after giving birth. That's a pretty big deal!
The photo, which she captioned "back at it again," hints that the old Kylie may be making a comeback. You know, the one who never failed to post something that would get everyone talking each and every week. And, we have to say, we're kind of excited about it.
https://www.instagram.com/p/BgK3v5kllu8
Of course, there were thousands of comments left on the picture, mostly by users who can't believe how incredible Jenner looks so soon after giving birth.
User carys.5938 made us laugh, saying, "Kylie still lookin like a whole 4 course meal even after having Stormi."
In response to the barrage of negative comments the photo also elicited, user its_ata_yo said, "The hottest hot mama out there don't care what them old mama's be saying she a daym milf ??" and honestly, yes.
User xsdrfx pointed out that Woods also looks amazing: "Damnnnn now you're a mum that looks good af and @jordynwoods more more more ✨?."
Echoing our own thoughts, ayeshammd said, "thank god your back I didn't know who else to stalk."
User demaestheticstho kept it simple: "YASSSS QUEEN YASSS."
User t.aylorlike theorized, "Conspiracy theory, Kylie was never pregnant it was all a hoax, cause no one looks that damn good after giving birth??."
Some people just couldn't believe the change. User slatt.14 said, "How tf ya stomach already flat and you 'just had a baby' what the hell."
And some of the comments were super sweet, like user katelyn_kilkenny, who said, "Whoa, were you even actually pregnant? You look amazing Momma! ?❤."
Everyone has been so focused on Jenner that most people didn't even notice Woods is just hanging out, brushing her teeth.
User aliana.hunt said, "I love that she's brushing her teeth ?" which is honestly hilarious.
Of course, it doesn't matter what Kylie's post-baby body looks like. We're just glad that she seems happy and confident in her new role as mom. And we can't wait for her to truly be back at it again with her selfies!