Kylie Jenner is playing Santa early by announcing Kylie Cosmetics surprises
Make no mistake — Kylie Jenner really loves surprising her fans. In the past, she's showed up on people's doorsteps, released surprise collections, and now she's getting a head start on holiday. It's not quite a shimmering New Year's Eve palette or a metallic liquid lipstick, but it's a start.
Fans of her lip kits, glosses, Kyliners, and Kyshadows are going to love her most recent announcement. No, it's not free goodies but it's the next best thing — FREE SHIPPING.
Any online shopper knows how annoying it to see your total creep higher and higher after taxes and shipping fees. Take a look at my total after buying one lip kit: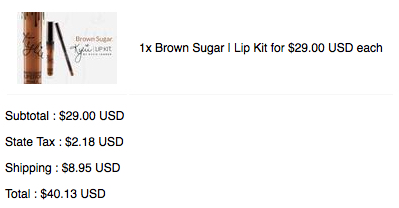 That $8.95 can kick rocks…
Same goes for that $2.18…
Fellow cheapskates, rejoice. Kylie just announced her very first #HolidaySurprise. Here's the scoop:
https://www.instagram.com/p/BMFJPnADLwo
From now through the holidays, she's giving us free shipping on orders over $40 and free international shipping over $60. Kylie's use of the hashtag #HolidaySurprises has us thinking she's got a lot more up her sleeve.
In the spirit of Christmas and asking for hella stuff you don't really need, here's a brief rundown of what we'd like to see from Kylie Cosmetics…
Lashes!
https://www.instagram.com/p/BL7eUMkhgVv
Kylie loves a dramatic lash so we're hoping she's in a lab somewhere creating the perfect wispies, doll lashes, and a super dramatic, long as hell pair for ultra glam moments.
Eye Gloss
https://www.instagram.com/p/BLz-zsPhmOm
How cool would this be on NYE? When the light from the disco ball reflects off your metallic, glossy lids? Yassss!
Foundation
https://www.instagram.com/p/BK9FR_ihlc9
While we're wishing here, how about foundation? We can start with powders if you want, Ky, but we're also expecting some freckle-covering, full coverage goodness.
Don't you just love the holidays?