Kylie Jenner now has red hair, and it REALLY stands out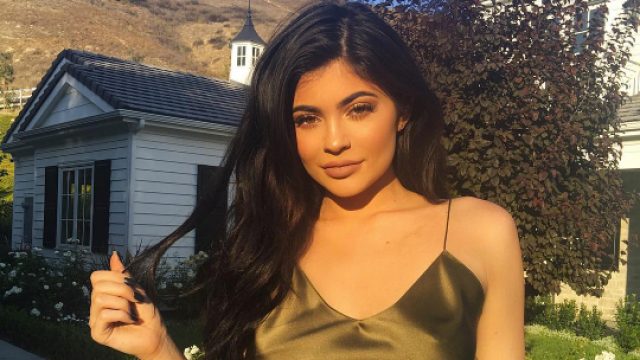 Kylie Jenner is *always* changing up her look, and we love her for it. Kylie has rocked nearly every hair color under the sun (usually with wigs or weaves), and she's looked amazing in each and every one of them. She's had mint locks, long blonde hair, and even rainbow braids for Coachella, just to name a few – and that's only this year.
King Kylie started her bday celebrations a few weeks early. Now, in addition to a new birthday puppy, a new birthday Mercedes from her boyfriend Tyga, and (perhaps best of all) a birthday bounce house, she's got a brand new birthday look for her actual big day.
Kylie now has red hair, in honor of her 19th birthday on August 10th, and it's super cute.
According to Refinery29, the reality star and teen makeup mogul first debuted the look on Snapchat. She then shared an Instagram post on Tuesday showing off her new 'do.
https://www.instagram.com/p/BI6AXwvBhbP
In the pic, Kylie is wearing fire engine red braids, along with diamond stud earrings, a choker, and a necklace. She's got a big red lipstick kiss mark emoji on her left cheek to match her hair as well.
In another photo shared via Instagram today, Kylie rocks the same hairstyle and color while wearing a matching red bodysuit.
https://www.instagram.com/p/BI7k79Whx8m
Like most of Kylie's past hair switcheroos, this look probably isn't permanent. I can't tell whether it's a wig, weave, or even a temporary hair dye. Kylie's big sis Kim Kardashian fooled us all last week with a gorgeous angled blunt bob wig that we ~totally~ thought was a real cut, so Kylie's look could be any of the above.
Although many are calling Kylie out for cultural appropriation. Again.
https://twitter.com/udfredirect/status/763175605420470272
Kylie has always been vocal about how much she loves switching up her look and experimenting with new colors, explaining on her app that she's "had this addiction to changing [her] hair [and that i]t makes [her] feel like a new person."
"I love feeling different and I love leaving the house knowing that nobody has ever seen me this way," Kylie has said. "It's hard for me to go back to styles I've worn before."
It's no surprise that Kylie finally made what appears to be her first foray into fire engine red territory – and that the color looks beautiful on her.
https://www.instagram.com/p/BI7kXRiBbXK
Happy birthday, Kylie! Enjoy celebrating in your new look.