Kylie Jenner just shared a sneak peek of her new kyshadow palette and we need it like yesterday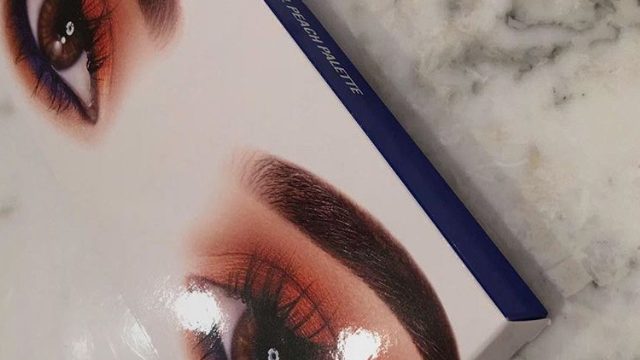 So, Kylie Jenner just shared a sneak peak of her new "Kyshadow" eye palette from Kylie Cosmetics and if you weren't aware already, you're going to want to make the resolution to check them out.
On January 12th, we'll be blessed with some gorgeous new shades inspired by Kylie's famed peach eye look during New York Fashion Week.
With little snippet teases on Snapchat, Jenner says there will be 12 colors in this peach-themed Kyshadow palette instead of the 9 the other palettes had. We'll be getting 3 new colors to complement the others and it feels like Christmas all over again!
For the first time, the set also has comes with a mirror and a shadow brush for perfect application. Score! This brand new Kylie Cosmetics gift, following The Burgundy Palette and The Bronze Palette, is aptly named The Royal Peach Palette. Sounds so summery fresh, we're sure it's going to rule once January hits.
https://www.instagram.com/p/BOrNAXFFnyh
https://www.instagram.com/p/BOsAEUwF1fk
https://www.instagram.com/p/BOsAjyglv4R
So you know it's imperative you act fast once these babies are available. Not only can you recreate her glimmering, smoky eye looks but with this gorgeous mix of peaches and taupes, you'll have your own glam look, ready for wherever life takes you — be it New York Fashion Week or the grocery store!
https://www.instagram.com/p/BOsBnZ5lYr_
Of course, we already know the Kardashians and Jenners are beauty and fashion trendsetters, so it's no wonder this new palette is already at the top of everyone's post-holiday wish-list. Just 12 days into the new year, having eye shadow that shimmers might not change the world, but it just might give you that little pep in your step you've been missing. And let's be honest, new eye shadow palettes are pretty much everything sometimes — especially if you're looking to change things up for the new year.
Bring it on, 2017! We'll be ready for you (and looking good, too)!