Surprise! Kylie Jenner's new makeup collection is inspired by her daughter Stormi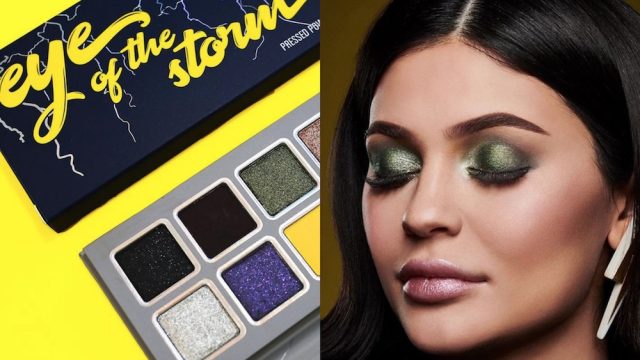 Ever since Kylie Jenner announced the arrival of her daughter Stormi, fans of Kylie Cosmetics have been eagerly waiting to see what the brand would release next. We just got our answer, and you're gonna love it. Kylie Cosmetics is launching The Weather collection, which is inspired by Kylie's daughter.
The Weather Collection is a vast, comprehensive line with just about everything you need for a vibrant, eclectic spring look. From lipsticks to a highlighter palette to two eyeshadow palettes, it's clear that Stormi's birth unleashed a fury of creativity in Kylie.
The collection features three matte lipsticks: Nova, Nightfall, and Cosmic. The line also includes two eyeshadow palettes: Eye of the Storm and Calm Before the Storm, each filled with soft mattes and glittery metallics. There's also Flash Glitter Gloss, two Glitter Eyes Eyeshadow duos, Lightning Bolt Ultra Glow, and The Weather Collection Highlighter Palette. It features four new shades: Cloud 9, Stratus, Daydream, and Golden Hour.
Everything about this new collection — from the shades to the rich, luscious formulas — screams luxury. These bold new products are some of the most unique and original shades we've seen Kylie create.
The Kylie Cosmetics Weather Collection launches on February 28th.
https://www.instagram.com/p/BfhH6KblLik
So you won't have to wait much longer to get your hands on it. We have a feeling it's going to be hard to narrow down our picks. It's a much more extensive collection than we were expecting, and each product looks positively electric.
https://www.instagram.com/p/BfhIdZ4lpPp
Those eyeshadow palettes are as romantic and lush as they come, but our eyes are also drawn to the stunning new lip products.
https://www.instagram.com/p/BfhIB51Fhd1
The lustrous gloss will be gorgeous as a topcoat, or you can wear it on its own.
https://www.instagram.com/p/BfhJFGRFVAZ
Stay tuned for February 28th, and be ready with your wallets open because these are guaranteed to fly off the shelves.