Kylie Jenner's makeup routine might look intense, but it's actually way simpler than we thought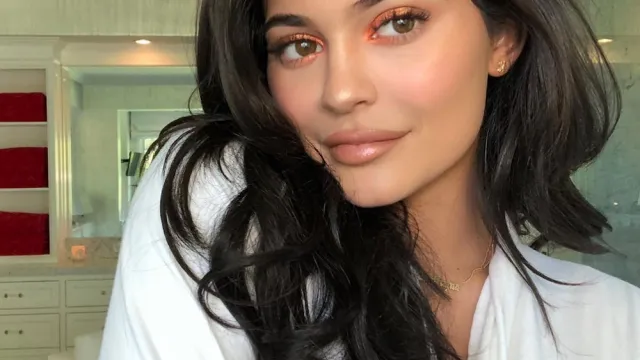 We know Kylie Jenner for quite a few things — she's the youngest of the Kardashian-Jenner family, she's a new mom to baby Stormi, and she's made a name for herself with her mega-successful beauty brand Kylie Cosmetics (hello, her products sell out and crash her website with every new launch). With that in mind, one would naturally think that Kylie's daily beauty routine would be pretty intense and time-consuming. We were so wrong.
In a new interview with Vogue, Kylie shared her step-by-step makeup application and it has us saying, "Wait, I can totally do that!" In the short video (it's less than 11 minutes, people), Kylie has the motto of "the more makeup, the better," but her routine is actually quite simple and  easily achievable for everyday wear. And even though her flawless selfies and makeup might have you thinking differently, her routine involves all, or most, of the steps you already do.
Starting with a fresh face (her skin is gorgeous, btw), she walks us through the steps to look beat.
Kylie starts with her eye makeup, a step she likes doing first because she can easily clean up any fallout from her shadows and it won't ruin her foundation. In the video clip, she uses one of her new palettes to create a peachy gold eye, which she partially applies with her finger.
Look at that bold shadow.
https://www.instagram.com/p/BkijSqjAge4
Next, she adds several pumps of foundation, which she admits looks pretty heavy, but the key is to "blend it all out like crazy" for a seamless look. She then adds more concealer and powder to her face. Kylie tops the look off with bronzer (of course, she uses a KKW Beauty brush) and more powder to bake underneath her contour.
And then comes the moment we've all been waiting for: her lips.
https://www.instagram.com/p/BkViLAejdb-
In the video, Kylie shows that she can line her lips with her eyes closed. (Now that's a major pro move.) She finishes off her look with a dab of shadow under her eyes, peachy blush (applied all over her face), mascara, highlighter, and a good setting spray. She says it makes your face look "better in person and less powdery."
You can watch the full video below.
https://www.youtube.com/watch?v=vCJ6U7mQmYw?feature=oembed
We're surprised to see that Kylie's makeup routine is quite easy, but we'll definitely be using her tips and tricks the next time we get dolled up.