This Kylie Jenner superfan actually got a Lip Kit tattoo on his arm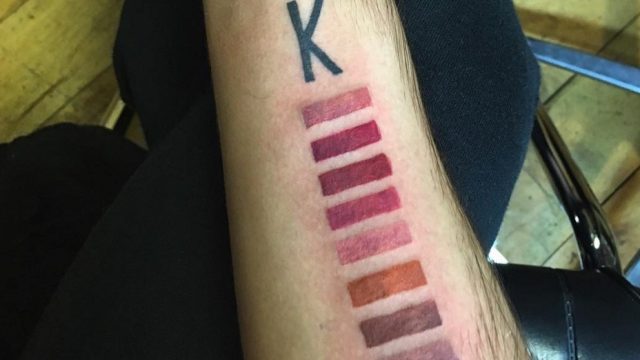 You may have a strong opinion about Kylie Jenner one way or the other, but no one has a stronger opinion than an 18-year-old in Milwaukee, Wisconsin.
It's distinctly possible that Johnny Cyrus is Kylie's BIGGEST fan. He first made headlines back in December for getting a massive tattoo of her Lip Kit logo on his arm and his new tattoo is of the Kylie Lip Kit swatches— plus a "K" and a crown, of course. It looks pretty amazing, we have to say. 
He's "beyond obsessed" with his new Lip Kit tattoo, which was done by John Ebert of Walkers Point Tattoo in Milwaukee. "I loved the colors so much, I needed them on my body," the superfan told BuzzFeed. Johnny said he knew that he wanted to get the Kylie Lip Kit shades tattooed to his body ever since the first ones came out. And this guy is committed: He plans on updating it with all of Kylie's lipstick shades as they come out.
Johnny has met Kylie on several occasions and she also follows him on social media. He adores Kylie so much, he explained to BuzzFeed, because "I love how confident she is! She's made me such a strong person. I couldn't be happier with where my life is right now."
Oh, and if you don't like Johnny's Lip Kit tattoo, don't bother taking to social media to tell him, because he doesn't have time for any haters. He's too busy hanging out with Kylie.