Kylie Jenner got "Kylie lip kit"-themed nails and we're obsessed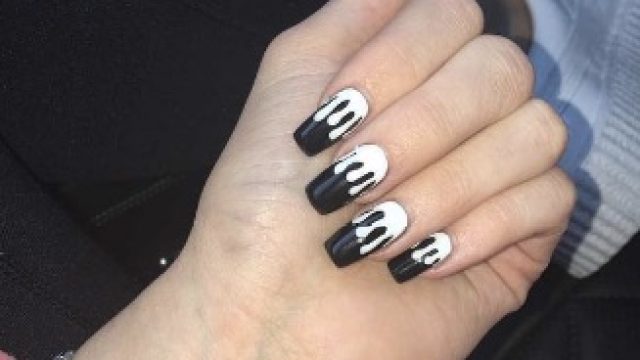 Kylie Jenner is killin' it at this personal brand game. As if she wasn't already the ultimate beauty queen, she recently unveiled a new nail look that is a shoutout to her own lip kits and it's pretty killer, TBH.
Kylie posted a Snapchat showing off her new coffin nails that flaunt the packaging on her lip kit — black drips on a white base. The design was once pictured on the outside of Kylie's lip kit boxes, but she had to redesign them because they kept getting stolen off doorsteps. That's right — the design has become so well-known that people can recognize it instantly. And now, Kylie has officially made it a ~look~.
That's some pretty stellar advertising. Of course, we all have been eagerly anticipating Kylie Jenner's nail polish line, and we can't help but wonder if she'll roll out with some nail designs that allow us all to get that classic white and black drip look. OK, BRB, going to get a manicure stat!