Twitter is roasting Kylie Jenner and Kourtney Kardashian for going to Coachella, and honestly, it's a little much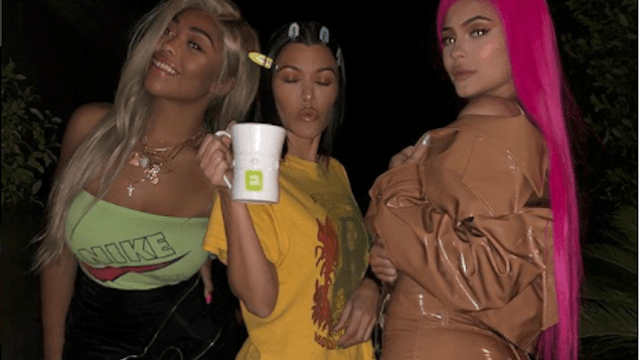 In case you missed it, it is that time of the year again. Coachella is a very famous music festival that brings out the biggest names in the biz and seemingly lasts forever. Not only do some of our favorite musicians perform (hello, Beyoncé and Destiny's Child!) but they all also seem to attend the festival. Every year, celebrities attend Coachella in packs. And we live for the group pictures.
But, of course, not ever celebrity can attend Coachella without receiving some feedback about it. Kylie Jenner and her hot pink hair are at Coachella this weekend. She's there with her big sis Kourtney Kardashian, their respective partners, and tons of friends. And of course, they're already receiving criticism.
Some people on the internet are pretty pissed that the Kardashian-Jenner sisters are enjoying Coachella instead of being with their sister Khloé Kardashian. Khloé gave birth to her first child, a baby girl, on Thursday, April 12th. We are almost positive that Khloé is surrounded by a lot of love, even while two of her sisters are off having fun. Honestly, people need to chill out.
Both Kylie and Kourtney have been posting about Coachella on Instagram. And they look like they're having a blast.
But some people are calling them out for leaving not only Khloé, but also their own kids. Though we do know a lot about the Kardashian family, we do not know everything. Khloé Kardashian had plenty of family, including Kim Kardashian, Kourtney Kardashian, mom Kris Jenner, BFF Malika Haqq, and boyfriend Tristan Thompson there for her for the birth. In fact, Kim and Kourtney rushed to her side from vacation to be there, so forgive Kourt if she spends a day or two at a music festival.
There's a lot of judgment on Twitter from people who aren't involved.
false
https://twitter.com/udfredirect/status/984970778365124608
Some think Kourtney isn't acting her age.
false false
And of course, others take issue with the fact that new mom Kylie Jenner is out "partying."
People seem to think that no one is paying attention to Khloé in her time of need, which is really probably not true.
We tend to think we know exactly what's going on in their lives at all times, but it's just not the case. There are personal communication channels that we will never have access to between the sisters. Kylie Jenner and Kourtney Kardashian are allowed to have fun, even though they have kids and even though their sister had a baby.
Let's stop the judgment about who is doing what in their free time.