Kylie Jenner helped her assistant get engaged and it's the cutest thing ever
We love hearing about people getting engaged, which is why we're so happy for Kylie Jenner's assistant, who got engaged this weekend (December 17th).
In between launching a pop-up holiday shop, running a cosmetics empire, dressing up as Christina "Dirrty" Aguilera, and being part of one of the most famous families on the planet, Kylie Jenner also revealed that she has a heart of gold. How do we know this? Well…
The 19-year-old reality star and cosmetics mogul shared adorable clips and pictures to her social media accounts, which are some of the most followed in the world, of her assistant,, getting engaged noting that she'd "tricked" her into the whole situation.
https://www.instagram.com/p/BOI4puAFZsB
Showcasing the whole thing on Snapchat, Kylie said:
"Vic's engaged...I tricked her.
The engagement took place on a stunning hilltop, and it seems that a heart has been made out of white flowers with a candle burning in the middle of it. This is all too romantic, right?
According to People magazine, the event even had its own Snapchat geofilter announcing the engagement of Victoria and her fiancé Marco Lobo.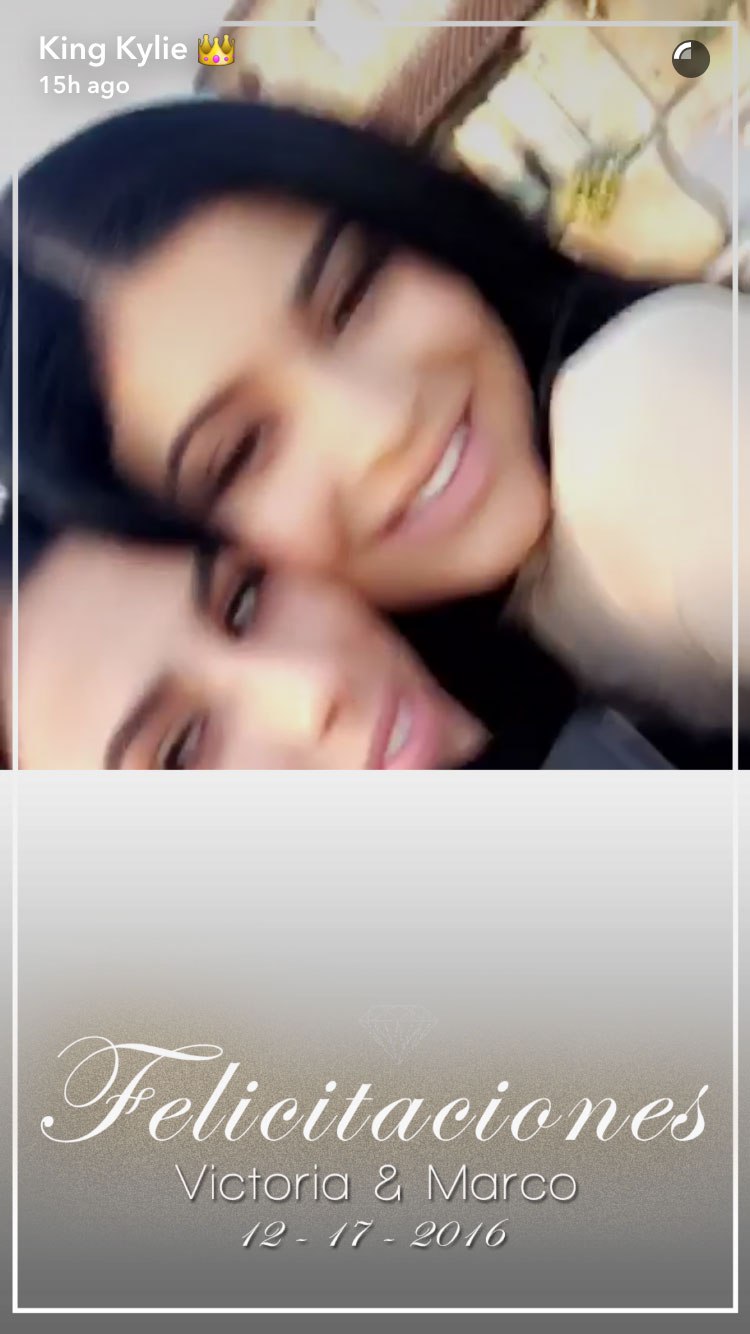 Kylie continued to document the engagement, and the videos are just stunning, particularly this one of the sun setting on the horizon.
https://www.instagram.com/p/BOI5YWElTIk
It was revealed that Kylie had masterminded the whole beautiful engagement on her Instagram account, with an unnamed male voice stating that she "killed it." The clip then sees Kylie get the biggest hug from her friend and assistant, Victoria, and it's all rather heartwarming.
https://www.instagram.com/p/BOJHqNdhjWt
"Congrats Victoria & Marco on your engagement I'm so happy I was able to be apart of it. To forever 💕💕 @victoriavillarroel 💋," Kylie wrote on Instagram.
https://www.instagram.com/p/BOJH23RhVIi
Victoria also shared  the sweetest message on Instagram to her friend, too.
"@kyliejenner words can't even describe how thankful I am to have you in my LIFE! I am OBSESSED WITH YOU," she said.
https://www.instagram.com/p/BOJNGCdASv5
She also shared a cute picture of her and her fiance, Marco, and AWWW GUYS!
https://www.instagram.com/p/BOJU5KfAPdk
While the details of how Kylie helped orchestrate the whole thing are scarce, we're pretty sure that given that the Kardashian/Jenner clan document EVERYTHING for Keeping Up with the Kardashians, we might get to see how Kylie helped her friend become engaged.
https://www.instagram.com/p/BOJP1-jlacY
However, while Kylie's life might be full of love at the moment, her half-brother Rob is currently going through some difficulties with his now ex-partner, Blac Chyna. It was reported that Chyna had left Rob and taken their newborn baby, Dream, with her in what's turning out to be a totally heartbreaking situation. We only hope that both of them are doing okay.