Kylie Jenner has a message for anyone who thinks her latest Instagram selfie is photoshopped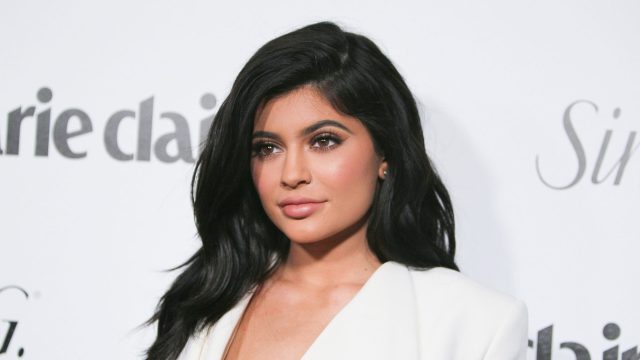 Every time Kylie Jenner shares a selfie, the world is HERE FOR IT, and people react in a variety of different ways. Some praise her for being their queen. Others compliment her gorgeous hair, flawless makeup, and impeccable style. But some not-so-nice commenters accuse Kylie Jenner of photoshopping her pictures to enhance her figure.
Last week, the makeup mogul and reality TV star shared a tummy-baring selfie on Instagram. In the pic, she's wearing a white shirt and showing off a pair of navy Puma briefs. As far as Kylie's selfies go, it's a fairly standard pic: Her phone is slightly covering her face, her makeup and nails are perfect, and her expression is somber.
But something SEEMED not quite right: Instagram users accused her of photoshopping the picture to make her waist appear slightly slimmer. Their main argument? The wall behind Kylie appears slightly warped.
Here's the selfie in question:
https://www.instagram.com/p/BTXt0HZh_Bb
"Look at the wall on her left side #photoshoped," one Instagram user commented.
"Lol…nice try Kylie, I don't think that curtain in the background is supposed to be bent," wrote another.
King Kylie didn't miss a beat. She fired right back at her haters, posting a response on Snapchat to explain the squiggly-looking wall and prove she didn't alter the Instagram selfie.
https://www.instagram.com/p/BTdObIkB3Kg
"So, this is like, my selfie mirror and my Snapchat mirror," Kylie's voice explains in the video. "So for future, this is a curtain behind me that looks crooked." For good measure, she wrote "for the photoshop [sic] police" on the video.
There you have it. Kylie did not doctor her Instagram pic. The Photoshop police can officially consider this case closed.