Kylie Jenner says she's self-conscious about this common hair problem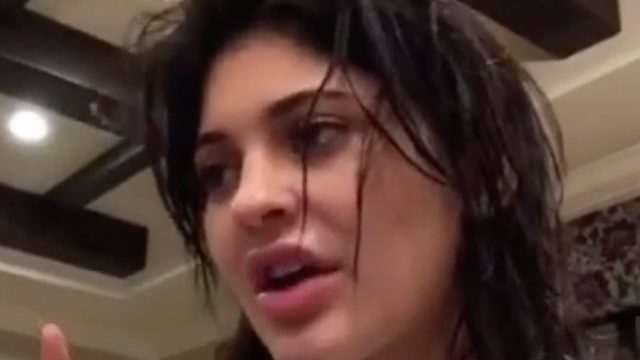 Sometimes I forget that even celebrities get self-conscious. I figure with their fame and wealth they have it made, you know? But then I get a wake-up call, usually in the form of an honest confession, like when Jennifer Lawrence admitted that she was embarrassed by her thighs. Well, Kylie Jenner recently spoke out about her own self-consciousness via Snapchat.
Kylie complained in a series of Snapchat videos on March 10 that bleach had "destroyed" her luscious locks. Kylie's now embracing her natural hair, but she still needs the support of her friends and boyfriend Tyga.
Kylie took to Snapchat to reveal her hair anxiety. "You're just kind of an a–hole because the top of my hair is kind of destroyed from the bleach so I'm really, like, self conscious about it," she says to a friend in the video. She continues to ask her friends what they think of her natural hair.
Later, while in bed with Tyga, she asks him what he thinks of her hair. "It looks good," Tyga tells his lady love. She then admits that her natural hair is her "favorite."
We think your natural hair looks great, Kylie!