Kylie Jenner and Hailey Baldwin are giving us serious tattoo goals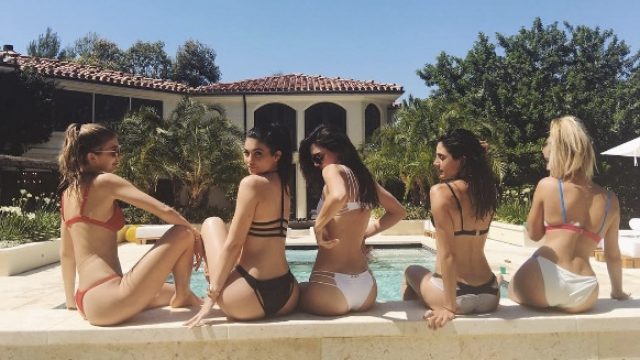 We already knew Kendall Jenner and Hailey Baldwin were super close. After all, Hailey was one of the friends responsible for Kendall's famous heart-hair post, and BFFs have the sweetest matching finger tattoos. Now, in a super summery Instagram pic, it looks like Kendall's sister, Kylie Jenner, and Hailey are getting pretty cozy, too, and they're giving us the ultimate tattoo goals with their hip tattoos.
On Monday, Kylie hosted a Memorial Day party, and it was pretty much the epitome of summer fun. She invited a bunch of her friends over, and of course, in true Kylie fashion, they had to snap some pics by the pool—including one with Hailey that flaunted their hip tattoos. Kylie's tat is the phonetic spelling of the word "sanity" inked in red, while Hailey's is the word "gente" (Portuguese for "people").
Other celebs in attendance included Kylie's sister Kendall Jenner, model Cami Morrone, and Jaden Smith — and it looked like everyone was having fun posing by the pool in the sun, because hey, gotta do it for the Instagram.
Flawless, as always. Sounds like a pretty spectacular way to spend a long Memorial Day weekend!