Kylie Jenner dressed up as 'Dirrty'-era Xtina again — for Christina Aguilera's birthday party!
Kylie Jenner has been absolutely killing it lately. Just two days ago, she was setting up her Kylie Cosmetics pop-up store. Yesterday, she took the time to hold her niece Dream Kardashian and spend time with the family. And of course, she's been getting the Christmas tree set up and preparing for the holidays.
Despite her busy schedule, Jenner always knows how to find time for fun. And last night, she did it in a seriously epic way.
Jenner showed up to popstar Christina Aguilera's birthday party — dressed as "Dirrty"-era Christina.
It's a look Jenner already rocked on Halloween. According to People, Christina Aguilera requested a repeat at her birthday party.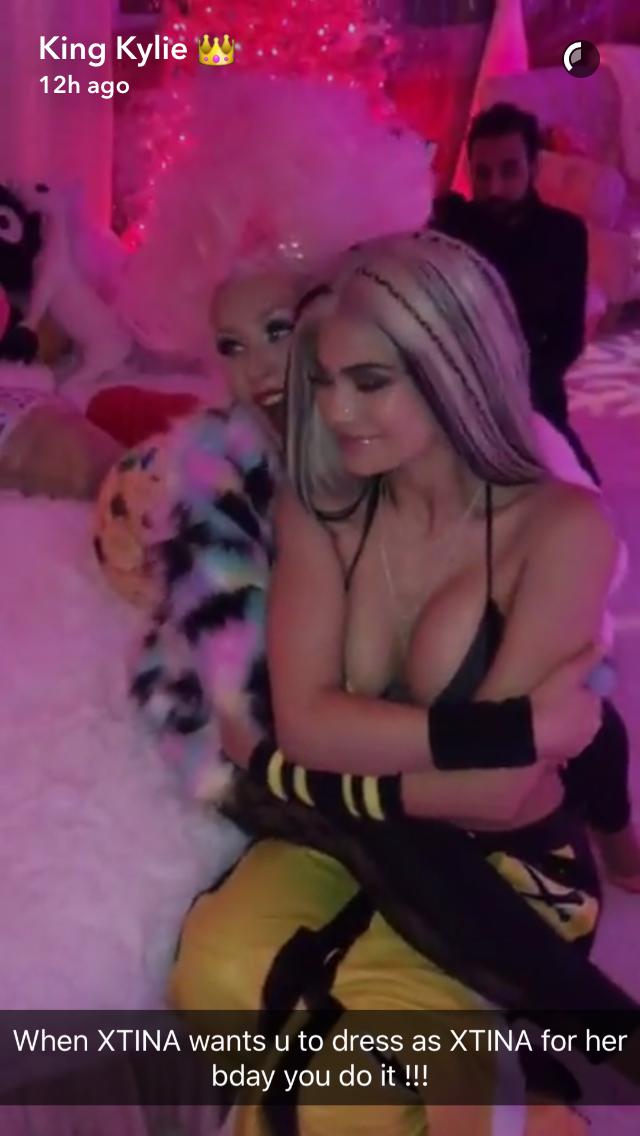 "When XTINA wants you to dress as XTINA for her bday you do it !!!"
Jenner rolled up to the party with her BFF Jordyn Woods and friend/teacher Tiffany Sorya.
https://www.instagram.com/p/BN3hGD2BuRX
From Jenner's Snapchat, it seems like this crew had a total blast, dancing the night away.
Jenner also shared a video of her and Xtina from the event, and they are beyond adorable together.
https://www.instagram.com/p/BN3a6Y8hj9Y
Both are dressed to the nines in the most amazing costumes, with Kylie rocking Xtina and actual Xtina wearing a truly incredible cotton candy-colored wig.
https://www.instagram.com/p/BN3hlIaBkUi
Want to know our favorite part about Jenner's Xtina outfit? It's yellow — meaning it's not the same Xtina costume she wore on Halloween.
https://www.instagram.com/p/BMLZGRmBf-p
There's something really amazing about the fact that Jenner has more than one Christina costume. But then, it's no secret that Jenner absolutely loves playing Xtina.
https://www.instagram.com/p/BMLt9mLhZQP
And who doesn't need more Xtina in their life? Ladies. Gentleman. "Dirrty" is for everyone.
https://www.youtube.com/watch?v=4Rg3sAb8Id8?feature=oembed
Now we'll just be over here rewatching this 2002 music video and wishing our dress up skills were as on-point as Kylie's.