Kylie Jenner deleted all photos of Stormi's face from Instagram, and this is an interesting 180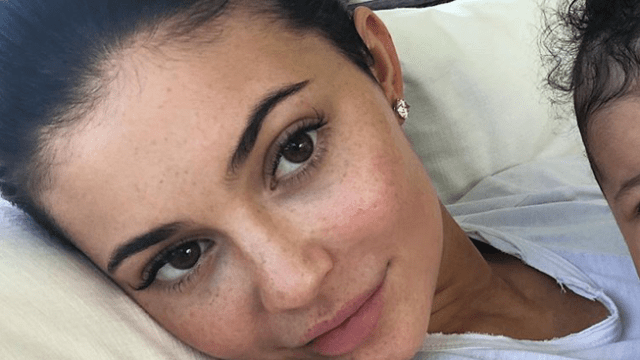 Kylie Jenner has spent the last few months sharing beautiful photos of her baby girl, Stormi Webster, but it appears she's had a sudden change of heart. She just deleted all photos that reveal Stormi's face. As of today, June 11th, 2018, the only photos of Stormi left on Kylie's Instagram are those in which her face is covered, cropped out, or otherwise obscured. This new privacy angle is interesting, considering that Kylie used to be an open book. The Kardashian empire has been based on the fact that these women share nearly every detail of their lives. However, while that open-book strategy might be good for business, we can see how it could also be unsettling for a new mother concerned about the safety of their child.
Kylie uploaded a new selfie over the weekend that shows only the top of Stormi's head. When a fan asked why, Kylie wrote back, "Yeah I cut my baby out. I'm not sharing photos of my girl right now."
Kim and Kourtney Kardashian share photos featuring their kids all the time, enough that anyone would be able to identify North West or Mason Disick in real life, so we wonder why Kylie is taking a different direction.
https://www.instagram.com/p/Bj2sBPBjBQg
https://www.instagram.com/p/Bjk3ahLlq2R
https://www.instagram.com/p/BhxHzMeAjzS
Back in May 2018, a source told People.com that the Kardashian are becoming more concerned with privacy, which is why they've shared so many photos of the newest Kardashian babies (Stormi, Chicago, and True) with Snapchat filters that change and partially hide their faces.
"It's a conscious decision made for privacy purposes," shared the Kardashian source. "[They] feel that they are protecting their babies if they don't show their full face."
Until Kylie reveals why she's not sharing photos of Stormi, we can only assume she's taking a more diligent route to protect her daughter's privacy. She'll share more photos of Stormi when she's ready, or maybe she won't, and that's her call to make.