Kylie Jenner was the first to congratulate Khloé Kardashian on her baby with this perfect post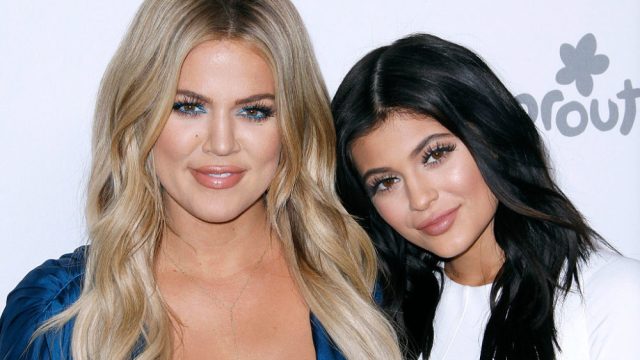 Khloé Kardashian is officially a mom to a baby girl. So far, she's kept quiet about the birth, refraining from sharing her daughter's name or photos of the new baby. But other members of the Kardashian-Jenner crew have been speaking out and offering their congratulations. In an adorable post, Kylie Jenner was the first to celebrate the birth of her new niece.
On the evening of April 12th, shortly after the news broke, Kylie took to her favorite media platform, Snapchat, to share her congratulations. The beauty mogul posted a custom filter featuring bold letters and pink balloons over a video of the road through the windshield of a car.
"Kongrats, Khloé! It's a girl!" the filter on Kylie's snap read.
Khloé is the third member of the Kardashian-Jenner family to welcome a child this year, after Kylie and Kim Kardashian. She gave birth to her daughter in a Cleveland-area hospital, surrounded by her boyfriend Tristan Thompson, her mom Kris Jenner, her sisters Kim and Kourtney, and her best friend Malika Haqq, according to E! News.
Khloé's mom was the first family member to congratulate her on her new daughter. In an April 12th tweet, the Kardashian-Jenner matriarch shared a video of her daughter Kendall Jenner repeating the word "baby," and wrote "BLESSED!"
And Khloé's sister Kim shared her own well wishes this morning, April 13th, tweeting that her sister was "strong" and that she had helped support her leg during the birth.
We're so excited for Khloé, and we know her daughter will grow up surrounded by a loving family. Congratulations to the new mom.