Kylie Jenner trades her hot pink hair for an electric blue bob as Coachella closes out its first weekend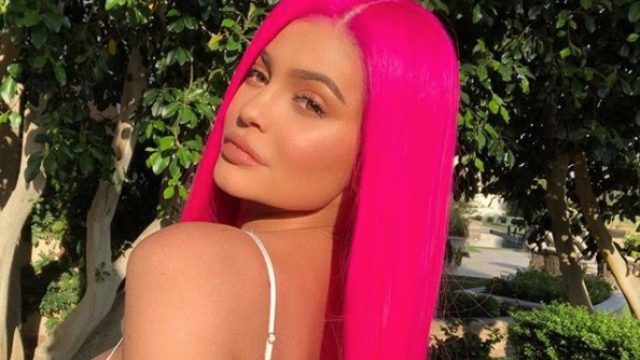 Thanks to the internet, what happens in Coachella doesn't *stay* in Coachella. And we really couldn't be happier about that fact. For those of us who didn't make it to the music festival to see Beyoncé's history-making performance (and that Destiny's Child reunion!), we can still enjoy the fun. From seeing the celebs — and the outfits — that appeared throughout Coachella's opening weekend to watching Justin Bieber geek out over yodeling boy, we're all very blessed. Especially since Kylie Jenner has debuted not one, but two epic hair looks at the festival, both of which gave us major hair inspo.
We suspected at least one Kardashian-Jenner would be hitting up Coachella this year, and we weren't disappointed. New mama Kylie majorly rocked some hot pink hair on the festival's first day, proving there's no rule that says moms can't be totally cool (and crazy cute). We loved seeing her rock this bold look! And now that Coachella's first weekend is coming to a close, Kylie swapped her pink hair for something with even more punch. She's now got blue — that's right, really blue — hair cropped into a totally sassy bob.
And, really, what's not to love?
Kylie Jenner has always been a hair chameleon of sorts, and we appreciate her willingness to mix it up. The cosmetics entrepreneur sported an eye-catching neon green/yellow hue at Coachella 2017, so she's definitely no stranger to the colorful hair life.
Check out Kylie Jenner's second Coachella 2018 hair look:
https://www.instagram.com/p/BhkWrrTl2AI
And here's that hot pink hair she used to remind us she's definitely a cool mom.
https://www.instagram.com/p/BhiA2q_AS_L
It even glowed in the dark!
https://www.instagram.com/p/BhkNke4l1rE
Bright hair, don't care! May all of your Coachella hair dreams come true.