Kylie Jenner celebrated Kendall's birthday in an outfit that screams '90s goth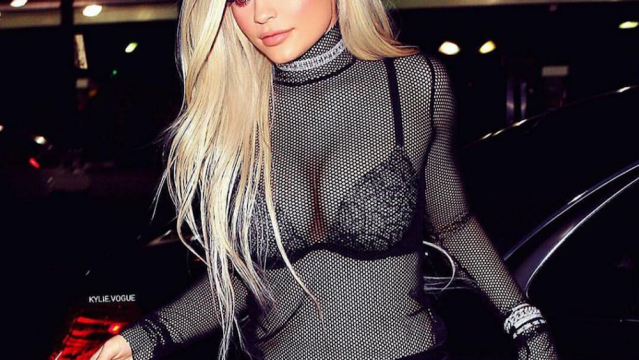 It's confession time: Deep down in my heart I'm a true baby goth. You wouldn't know it from looking at me, but it's where my soul truly resides. It doesn't matter how much black clothing I drown myself in or how dark my lipstick is, babies everywhere want to snuggle me. I guess it's just my cross to bear! If there's someone we know who can pull off just about every look in existence, it's our darling Kylie Jenner. Why? Because she just stunned at her sister Kendall Jenner's 21st birthday party. Kylie transformed into Christina Aguilera, and had every hair color in the rainbow, and now she's proving she's the queen of rocking '90s goth. She shows us that her creativity and daring fashion choices knows no bounds.
Kylie showed up to Kendall's 21st birthday party looking like the '90s goth of my dreams!
https://www.instagram.com/p/BMV29DuhlDg
It's been a minute since I saw a fishnet shirt and I gotta admit — it's working here!
What a delight to be able to constantly express yourself creatively and find new ways in which to do it.
https://www.instagram.com/p/BMV3P8xBwuU
And you'll notice she's got that pinky-red eyeshadow on that everyone's talking about as the next big thing in makeup. Always ahead of the trends, that Kylie!
Those lace-up pants look so fierce and like they just walked off a late '90s runway. I could even see Christina Aguilera donning one of these during her Dirrty days!
https://www.instagram.com/p/BMVrsPjF2iA
The contrast with her super bleached hair is really beautiful and it's what makes this look feel almost like romance-goth. That's a thing, I promise!
It looks like the party was a blast and everyone had a good time!
https://www.instagram.com/p/BMWZ276l60M
A truly excellent time to debut such a daring look, if you ask me!
What do you think — is this look too bold for you? Or are you ready to rock it this weekend? I'll have to chalk it up to one of the many if-only-I-was-brave-enough-looks that I wear in my imagination!