Kylie Jenner shared the most candid videos of baby Stormi yet, and yes, there was a teddy bear filter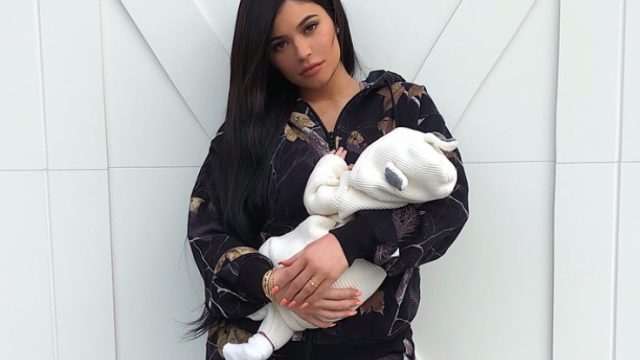 Kylie Jenner is one proud mama. She's been super generous about sharing pictures and videos of baby Stormi with her fans, and we're honestly thrilled to see every single one. Stormi is an adorable baby, and we're loving how well the youngest Kardashian-Jenner is embracing motherhood.
Stormi, who's currently just over two months old, was born on February 1st. While rumors spread like wildfire, Kylie kept her pregnancy a secret from day one, and only confirmed it after the birth of her daughter. She shares Stormi with boyfriend Travis Scott, who she's been dating since last April.
Kylie shared her new videos on Snapchat, and while the visual focus is all on Stormi, Kylie can be heard in the background. "Hi, happy girl. I love you, I love you," she sweetly says in one of the videos. Yep — our hearts have officially melted, and we love seeing Kylie in her element like this.
https://www.instagram.com/p/Bhuhupjltb9
And look at the way Stormi smiles back at her mommy.
In the last one, Kylie goes over what they did that day, including a trip outside.
https://www.instagram.com/p/BhvBNLIhmQL
Stormi's clearly surrounded by so much love (and we have a feeling she's going to be particularly close to her brand new cousin, True Thompson, who was born on April 12th). They've got a lot in common already — not only are they family, but they were both kept a surprise from the Keeping Up with the Kardashians fanbase for months (and that's no easy feat).
https://www.instagram.com/p/BfzEfy-lK1N
We can't get enough of baby Stormi and hope that Kylie keeps the videos coming.