The outrageous cost of Kylie Jenner's blonde birthday hair made us spit out our water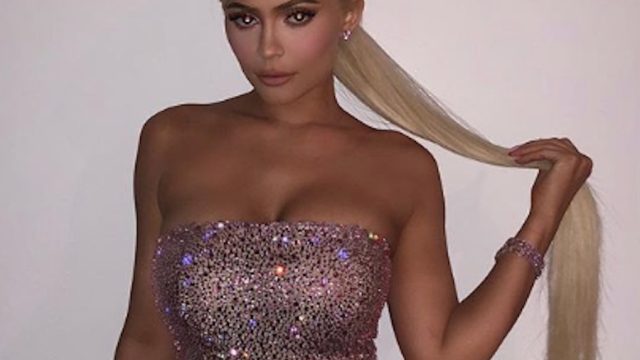 There's no denying that people like to indulge a little bit for their birthday festivities. However, Kylie Jenner has taken splurging on your b-day to the next level. According to Refinery29, the beauty mogul's platinum blonde hair cost a shocking $8,000. (Yes, we just spit out our water.)
While Khloé and Kim Kardashian recently cut their hair into short bobs, Kylie went the opposite route with extra long blonde extensions to celebrate her big day. In an interview with Refinery29, Kylie's extension artist, Violet Teriti, shared the details of the dramatic style.
Violet told the publication that she sourced 30-inch human hair extensions for Kylie's birthday look. And since the reality star's birthday was Barbie-themed, it makes sense that she would embrace the doll's iconic long blonde ponytail. 
To create Kylie's birthday hair, Violet used a weft. According to Vogue Wigs, a weft is a long "curtain" of hair that has a seam at the top. She told R29, "A lot of people think it was a ponytail, but it was actually a weft, which is good when people are going really, really long because you have to have a lot of hair to have it look thick and long."
https://www.instagram.com/p/BmWNsyFFqRh
So why was Kylie's hair so damn expensive?
https://www.instagram.com/p/BmSab2PgAUu
Violet told the publication:
"Kylie's weft was about 400 grams, which I typically sell for between $6000 and $8000. It's Slavic hair sourced from Russia. There's nothing better than that hair because it's the only hair that doesn't need to be bleached and processed so many times, or even toned and glossed—it's naturally already highlighted."
https://www.instagram.com/p/BmSRxqOA1TA
It's a hefty price to pay for one's birthday hair, but, apparently, that's chump change for Kylie.