Kylie Jenner gave her biggest fan a $2,000 Louis Vuitton bag for his birthday, and note to self: start stanning for Kylie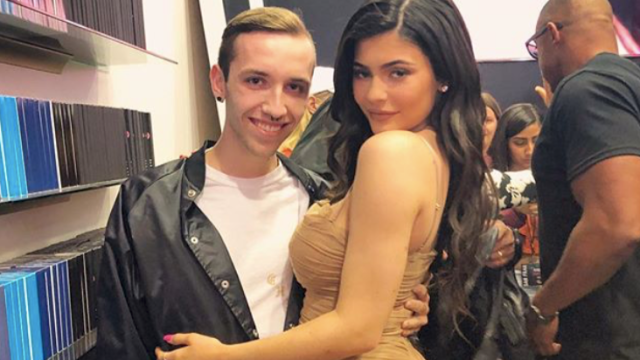 Word on the street is that Kylie Jenner is super generous. She bought her BFF Jordyn Woods a Mercedes for her 19th birthday. She went to prom with one of her fans when she learned his original prom date rejected him. Oh, and she casually gifted a superfan a $2,000 Louis Vuitton backpack for his birthday. Because that's how Kylie rolls.
At her recent Kylie Cosmetics San Francisco pop-up event, Ky gave superfan Johnny Cyrus the generous gift in person. Cyrus is just a regular 21-year-old from Milwaukee, WI with a lip kit tattoo on his arm. As in, he permanently replicated Jenner's infamous lip kit swatches on his own arm. Cyrus also has several shoulder tattoos in Jenner's image, including her face, her lips, and her eye. So, FYI, that's the level of fandom you need to reach before Kylie starts sending you B-day gifts.
Johnny shared the expensive gift on social media, captioning it: "Thank you [Kylie Jenner] for the amazing birthday gift it means so much to me!" It appears as if she gifted him the LV Apollo backpack, which retails for a cool $2,010.
Awwww.
Here are some photos of Johnny's beautifully extra Kylie-inspired body art.
"I love how confident she is! She's made me such a strong person. I couldn't be happier with where my life is right now," he told the publication in 2016.
Okay, for that, you get an expensive backpack.