Kylie Jenner had her baby and made a YouTube video about her pregnancy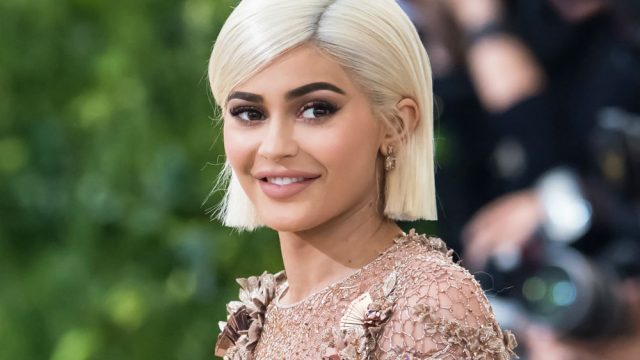 Well, we've been waiting and the day has finally come: Kylie Jenner has not only officially confirmed she was pregnant for the last nine months, but she also announced the birth of her baby. The youngest of the Kardashian-Jenner clan is now a proud mom to a baby girl, born on February 1st, 2018.
Jenner announced the news in an Instagram post that explained why she wanted to keep her pregnancy a secret, and then added a link to an almost 11-minute long YouTube video that chronicled the months of her pregnancy. If you've been missing her on social media, you will definitely get your fix from Jenner's YouTube pregnancy video.
Rumors have been swirling about Jenner's pregnancy for months, but the star kept it a closely-guarded secret. Jenner went from posting Snapchats and Instagram videos every single day to essentially quitting social media altogether. Everyone expected Jenner to do a big reveal in some huge, dramatic way, but she had different plans. In fact, the reveal was a lot more low-key than one would expect: Jenner wrote a sweet post on Instagram about how she needed some time off so that she wouldn't put any added stress on the baby. She also wrote that being pregnant was "the most beautiful, empowering, and life changing experience" she's ever had. So sweet.
https://www.instagram.com/p/BeycUmgFTWb
Immediately following the announcement, Jenner posted a short clip on Instagram that teased a much longer video. She wrote, "here's a little glimpse of the last 9 months."
https://www.instagram.com/p/BeycdselrTe
Jenner may have kept a low profile while pregnant, but she still managed to capture the biggest moments on camera, and would we expect anything less? Honestly though, it's nice to finally get a look at what Jenner has been up to these last few months.
The video is called "To Our Daughter," and is filmed like an open letter to the newest Jenner baby.
It starts with a really emotional home video of Kris Jenner giving birth to Kylie. It then goes into a series of photos and videos of Kylie with her boyfriend, and the father of her child, Travis Scott. Her best friend, Jordyn Woods, and her assistant, Victoria Villaroel, start to tell the story of finding out Kylie was pregnant. The video is full of footage of Kylie and Scott, as well as private pregnancy moments that are really, really adorable to watch.
https://www.youtube.com/watch?v=BhIEIO0vaBE?feature=oembed
This is definitely an extremely sweet gesture to this little baby. And we can't lie, we like getting to feel like we're finally keeping up with Kylie Jenner.