Kylie Jenner has a 15-step makeup routine and it's INTENSE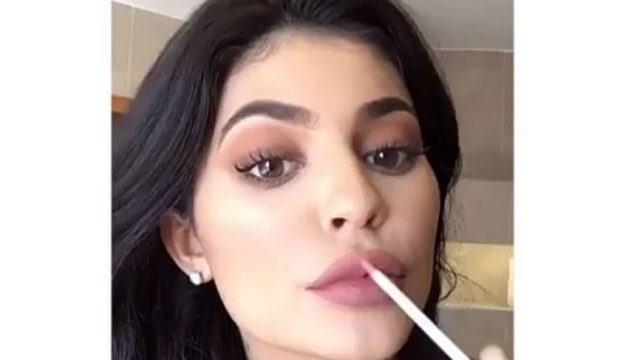 It seems that King Kylie is the QUEEN of makeup these days. With all the hype around her Kylie Cosmetics line, the world is just waiting to see what she's got up her sleeve next. The latest head turner from the Kylie camp is her amazing 15-step makeup routine that will blow your mind. She snapchatted the whole thing and the internet is going bananas over it. Okay, you ready for it? Settle in. We might be here for a while.
Obviously, she starts with the liquid foundation.
Then, she fills in her eyebrows with Anastasia Beverly Hills Brow Wiz. She uses the shade Caramel.
But let's get real. One step on your eyebrows isn't enough for Kylie. (No wonder her brows are always on point.)
She also uses a concealing cream above and below her eyebrow line to get some rad definition happening.
Brilliant, although I doubt it would turn out that great if I did that to myself.  Now, time to move on to the eyelids.
Before applying liner or eye shadow, she dusts her lids with a translucent setting powder by Laura Mercier.
She then applies a medium brown eye shadow to the middle of her lids (keep up, we're only on Step 5!) and blends in a dark brown eye liner.
Step 6 is all about the concealer, which she applies and blends to her under-eye area, nose, cheeks, and forehead.
On to more setting powder! Kylie used the same Laura Mercier one she put on her lids to set her whole face.
Apparently, this prevents any caking from happening. Anyone else feel like a total makeup rookie right now?!
For Step 8, Kylie applies a Chanel powder to her face. It's called Double Perfection Lumiere and it costs $55. Wowza!
Step 9 is a little shadow under her eyes for a smoky look, followed by bronzer on her cheeks as Step 10.
You might be happy to know her bronzer only costs $15. I see a Sephora visit in your near future.
She enlists Anastasia Beverly Hills Clear Brow Gel to set her eyebrows, a product I've used and can personally vouch for. It's bomb.
Step 12 is Sephora's Colorful Face Powder Passionate Contour, which she brushes on her cheeks to add a pop of color.
The next chapter is all about eyelashes. Kyle curls them and applies a Lancome mascara.
For Step 14 (we're almost there!), Kylie uses a 12-hour liner by Sephora on her lower lid. Only $14.
And who would Kylie be if she didn't finish off her face with a few swipes of her favorite Kylie Lip Kit shade Candy K?
There's speculation that there's a Candy K gloss coming out because what she put on doesn't quite look so matte in the photos. Fingers crossed, because I love Candy K.
Here's the final result. King Kylie, indeed.
Sephora trip, anyone?