Kylie Cosmetics's new launch lets beauty lovers create a one-of-a-kind palette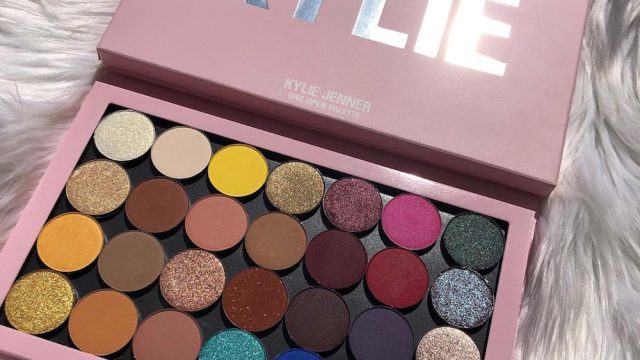 In the past few years, so many eyeshadow palettes have hit the market, but it can be hard to find one that has everything you want/need. That's where the latest Kylie Cosmetics launch comes in. The brand is switching it up and launching 28 single shadows along with an empty palette that lets you make it one-of-a-kind.
Lately, Kylie Cosmetics has been making major moves. On August 30th, Kylie Jenner announced that her brand would arrive in Ulta Beauty stores this holiday season, and now she's expanded her range of products with this exciting launch.
This is the first time Kylie Cosmetics has released an empty palette, so it will be exciting to see what creations beauty lovers come up with. Kylie also selected all 28 single shadows based on her favorite and most popular shades. Some of the shadows come from current palettes while others come from previous limited-edition and sold-out palettes. The best part? There's a variety of matte, shimmer, and satin shadows, so you'll have options galore.
You can shop the single shadows and empty palette starting today, September 7th.
https://www.instagram.com/p/BnZ4CDjFg63
Whether you want a palette full of vibrant colors or shades that can be worn every day, you'll be able to easily customize it to your heart's desire.
https://www.instagram.com/p/BnZ9EeQFL3C
Head on over to Kylie Cosmetics at 3 p.m. PST and shop the brand's single shadows and empty palette.