Kylie Cosmetics' new marble-inspired lip sets will match your crystal collection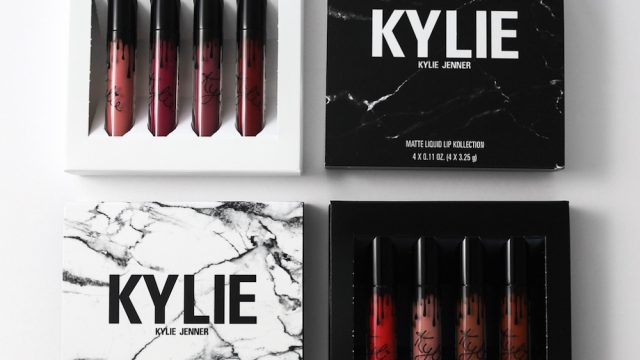 We are all for some awesome Kylie Cosmetics releases, especially since the brand just gave an epic sneak peek at the holiday collection.
But Kylie Cosmetics also has other new products to brag about: Kylie's new marble makeup sets at Topshop and it will match your kitchen countertops.
Available exclusively at the #KyliexTopshop pop-ups starting on November 20th, the Kylie Cosmetics matte and velvet liquid lipstick sets will surely satisfy any beauty enthusiast. Each set contains four different shades, with gorgeous finishes.
And available for $40 each, it's safe to say that these marble makeup sets will make the perfect Christmas gift.
The Lip Set #1 is a great way to dress up your lips this holiday season, with shades like Shopaholic (a light mauve pink), Trendy (a midtown reddened brown), Show Off (a true orange-red), and Fashionably Late (a warm chestnut).
And each shade inside this set treats your lips to a gorgeous matte effect, allowing you to create all those sexy lip looks you truly love.
https://www.instagram.com/p/BbhdbwVFBim
But if you have a knack for bold shades, the Lip Set #2 offers mysterious tones available in a sexy velvet finish. Shades inside this set include Popular (a deep matte plum), Sold Out (a deepened raspberry), Shop o Clock (a peachy pink), and Buy Now Cry Later (a vibrant berry).
https://www.instagram.com/p/BbgLiKuF4jE
And while each of these new Kylie Cosmetics lip sets are available exclusively at TopShop until December 20th. If you live in one of these ciities, Los, Angeles, Las Vegas, and New York, you can find Kylie's Pop-up shops inside TopShop stores.