This is not a drill: Kylie Cosmetics is launching lipsticks for the first time ever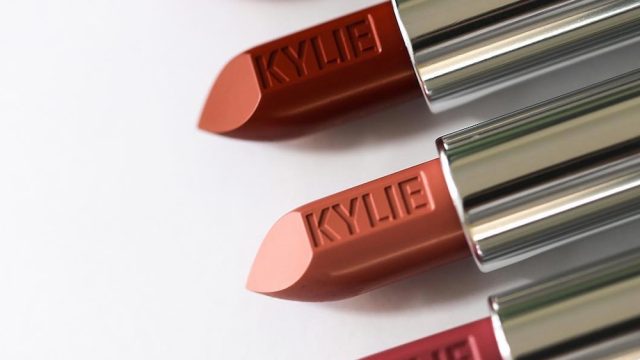 Christmas has come early for lipstick lovers everywhere because, in a truly surprising move, Kylie Cosmetics is launching a lipstick line for the first time in the brand's history.
Here we were being so distracted speculating about upcoming concealers that we didn't even see this huge news coming.
Matte Liquid Lipsticks put the brand on the map, and while we figured that eventually, Kylie Cosmetics might expand its lip line, we really didn't expect it to be so soon. It appears to be that this news is part of a series of surprise launches that Kylie will be dropping this holiday season, and after this stunning surprise, we honestly can't even imagine what could be following it up.
While we adore the matte lip formula, not every occasion calls for a dramatic matte lip. When you want a rich, creamy lip, nothing beats some good old fashioned hard tube lipstick. Since this is Kylie Cosmetics we're talking about, you can expect the formula to be out of this world.
And just you wait until you get a load of the packaging. With a silver bullet exterior and Kylie's name emblazoned on the actual lipstick, it's going to make just as much of a statement on your vanity as it will on your lips.
The Kylie Cosmetics Silver Series Lipsticks will be available on December 13th.
https://www.instagram.com/p/BcV2J_JFBcl
These shades are all incredibly luscious and luxurious.
These lipsticks all have an incredibly hydrating and creamy formula with a satin finish. They're highly pigmented, so you aren't losing any color payoff when you use them instead of your usual matte liquid lips.
https://www.instagram.com/p/BcVzr95FEe0
We are in the midst of a full swoon.
Are you still drooling over this monochromatic look, courtesy of Kylie Cosmetics' new lipstick line and holiday palette?
https://www.instagram.com/p/BcWGE3bF-yV
Featuring the new lipstick in Infatuation and Ho Ho Ho eyeshadow from the Naughty palette.
It's going to be impossible to resist these delectable shades. You better believe that come December 13th our typing fingers will be ready.
https://www.instagram.com/p/BcWIqK2lJyS
We can only imagine the virtual stampede of beauty lovers trying to get their hands on this collection. What do you think? Are you as excited as the rest of us? And now we must patiently wait to see what other goodies Kylie will bestow on us this holiday season.