Kylie Cosmetics' holiday collection includes the blush Kylie Jenner wore on her 21st birthday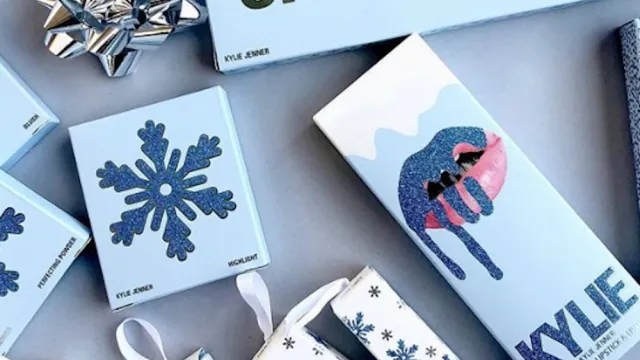 It's beginning to look a lot like Christmas with the new Kylie Cosmetics holiday collection. Thankfully, we don't have to wait until December to get our hands on these festive makeup goodies. With frosted blue packaging and Kylie's signature lip design dazzled in glitter, this holiday collection is proving to be a mid-November treat.
Of course, Kylie herself announced the holiday collection in a series of Instagram Stories. She revealed the extensive line, which includes a 14-pan eyeshadow palette, an eight-piece mini liquid lipstick set, a lip kit, a four-piece liquid lip bundle, a four-piece bullet lipstick set, a blush, a highlighter, a face powder (which are all new formulas), two loose highlighters, and three creme shadows. It's a Kylie Kristmas, that's for sure.
Kylie revealed the most exciting products from the bunch are the face products. "It's all brand new formulas," she said on her Instagram Stories. "I have Winter's Kiss, my favorite blush, that I wore the night of my birthday and you guys loved that look." As for the highlighter in Snow Angel, best believe it's pigmented. The face powder, You're Perfect, is a "perfecting powder, which really smooths your under-eyes, brightens them, and cleans up any mistakes that you made."
https://www.instagram.com/p/BqJbTKcHe27
The Kylie Cosmetics holiday collection launches on November 19th at 9 a.m. PST.
https://www.instagram.com/p/BqJc1pCHhwd
This marks Kylie Cosmetics' third holiday collection. Last year, Kylie played around with the naughty and nice theme. But this year, she's getting into the winter wonderland spirit. "Thank you for the love and continuous support," she wrote in a heartfelt Instagram post. "I feel so blessed."
https://www.instagram.com/p/BqIcghmHf0-
Here's a peek at the collection below.
The Chill Baby Palette
https://www.instagram.com/p/BqK4kYwn9UA
Snow Angel, Winter Kissed, and You're Perfect
https://www.instagram.com/p/BqJbTKcHe27
The Baby It's Cold Outside Mini Lip Collection
https://www.instagram.com/p/BqKnUqynsje
Four-piece Set
https://www.instagram.com/p/BqK389VHxNM
Lipstick Set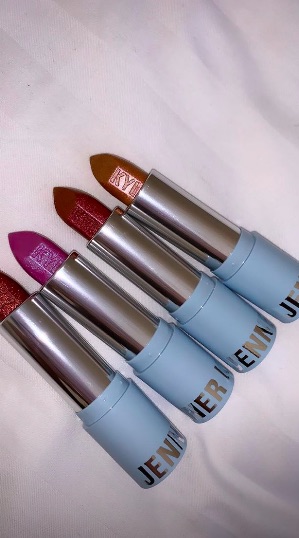 Lip Kit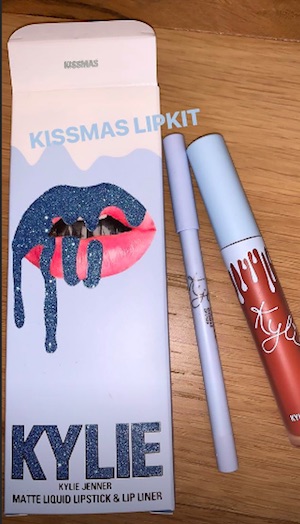 Loose Highlighters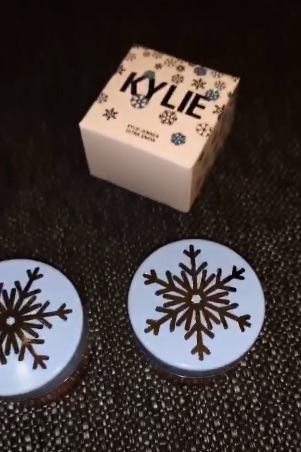 Creme Shadows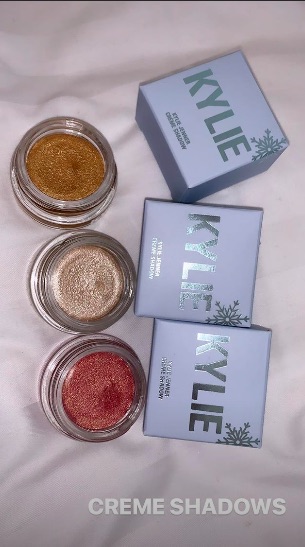 Don't forget to set your alarms on November 19th at 9 a.m. PST. Head over to the Kylie Cosmetics website to pick up these goodies.