You'll soon be able to buy Kylie lip kits at the mall, so get your wallets ready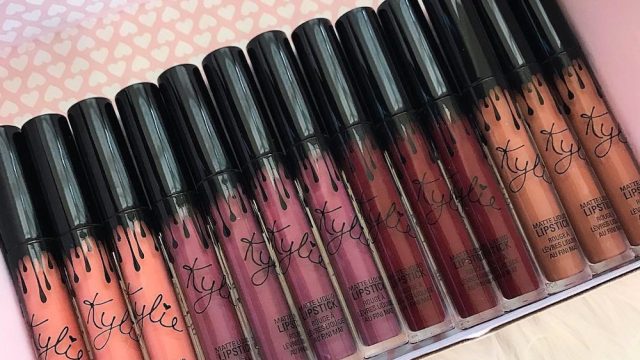 It's become abundantly clear that the frenzy surrounding new Kylie Cosmetics releases will never die down — pretty much everything she creates flies off the shelves, leaving many fans awaiting restocks. This holiday season, if you happen to live in one of seven lucky destinations, you'll be able to pick up Kylie Cosmetics at a TopShop Pop-Up near you.
Usually, you can only pick up Kylie's famous lip kits online, and while she dabbled in a Pop-Up shop last year in Los Angeles and NYC, her line is expanding into more cities thanks to her TopShop exclusive. The catch is, of course, that you have to live in one of seven cities to shop the line in-store. If you live in Los Angeles, NYC, Miami, Chicago, Houston, Las Vegas, or Atlanta, you can shop Kylie Cosmetics' TopShop Pop-Up.
Select TopShops in these towns will not only be selling some of Kylie Cosmetics' most popular products, but they'll also have new sets that are exclusive to the store, including two new lip sets in eight different shades.
The Kylie Cosmetics TopShop Pop-Ups will be opening this November, though we don't have an exact date yet.
https://www.instagram.com/p/BbABXMslomV
We'll have to wait just a little longer for an exact date and further details, like what shades these sure-to-be delectable new kits will contain.
It's been a big few weeks for Kylie Cosmetics, rumors of Kylie's personal life aside.
https://www.instagram.com/p/BbCUGK4FLcs
The new Velvet Liquid Lips are gorgeous, and we can only hope that she includes a few of these in her Pop-Up Shop, alongside her many Matte Liquid Lips.
Keep your eyes peeled on social media for all the information that's sure to come out in the next few days.