Kylie Cosmetics' holiday collection has you covered whether you've been naughty or nice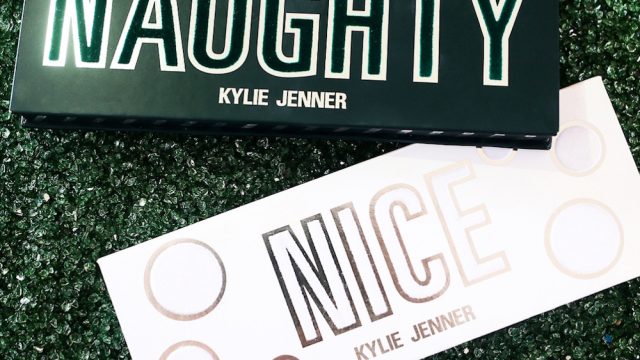 'Tis the season for massive holiday collections from our favorite beauty brands.
You certainly won't hear any complaining coming from our direction — it feels like everyone is trying to outdo themselves this year because these beauty lines keep getting larger and more glamorous.
Kylie Cosmetics just revealed its Holiday Collection, and it's full of gorgeous, festive makeup.
Regardless of whether you've been Naughty or Nice, Kylie's got you covered. She's given us a look at two eyeshadow palettes, Naughty and Nice, full of stunning and highly-pigmented shades in matte and metallic finishes. Each palette contains 14 different shades that will help you create the most sultry and fanciful winter looks.
Your holiday party makeup will be on point with these gorgeous palettes. Whether you decide to go with the Nice palette, an array of classic, neutral shades. Or you opt for Naughty, a sumptuous feast of vibrant, moody hues. What are you leaning towards? We see shades in each that have our interest piqued.
These palettes will make perfect little stocking stuffers if you're thinking of making any grand gestures to the beauty lovers in your life. And while you're at it, you might as well pick them up for yourself as well.
The limited Kylie Cosmetics Holiday Collection will be released on November 22nd.
https://www.instagram.com/p/BbijZieFJfV
What else will it include, we wonder?
We have a sneaking suspicion that these palettes along with the rest of the Holiday Collection will fly off the shelves, so you're going to have to be ready to go come the 22nd.
Kylie Cosmetics Nice Palette:
https://www.instagram.com/p/BbiiDAqlk-x
Get a load of Blizzard and Slay!
Kylie Cosmetics Naughty Palette:
https://www.instagram.com/p/Bbijuwrlpsw
We've got our eyes on you, Snowflake and Jingle.
What do you think, are you as captivated by these shades as we are? You have to admit they're pretty perfect for the season. Be ready on the morning of November 22nd to make them your own.