A report claims that "Smallville" actresses Kristin Kreuk and Allison Mack were involved in a sex cult, and here's what we know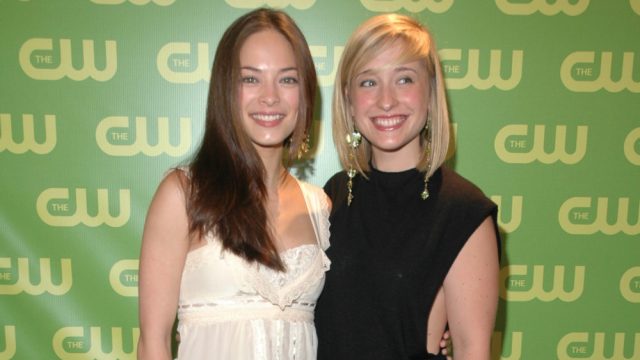 As more disturbing details have come out about Nxivm, a secretive self-help organization some have described as a cult, those familiar with the group are speaking out. That includes Smallville actress Kristin Kreuk.
Kristin Kreuk, who played Lana on the 2000s CW series, posted a statement on Twitter on Thursday, March 29th, saying she is "horrified and disgusted" by what's been reported in the wake of Nxivm leader Keith Raniere's arrest — and she denied that she'd ever recruited sex slaves during her time as a group member, as the New York Post claimed. There have been no comments from Kristin Kreuk's Smallville co-star who's also been tied to Nxivm, Allison Mack — and some have even alleged Mack may have served as Raniere's No. 2.
Nxivm (pronounced nex-e-um) bills itself as a "a company whose mission is to raise human awareness, foster an ethical humanitarian civilization, and celebrate what it means to be human" and offers pricey self-improvement workshops and coaching. The New York-based network was founded in 2003, and has often been the subject of controversy over the years.
In 2012, the Albany Times-Union ran an investigative series reporting on alleged scary misconduct within the organization. And last year, Dynasty actress Catherine Oxenberg said she believed her daughter had been brainwashed by the group after The New York Times published a report that a shady sorority called DOS within Nxivm was branding members and manipulating them with blackmail, sexual coercion, and other abuses.
Raniere was arrested this week in Mexico and charged with several counts of sex trafficking and forced labor.
On its website, Nxivm has defended its founder, saying in a statement: "In response to the allegations against our founder, Keith Raniere, we are currently working with the authorities to demonstrate his innocence and true character. We strongly believe the justice system will prevail in bringing the truth to light."
As for Kristin Kreuk, she says she first participated in the group's workshops as a way to "handle [her] previous shyness," but left about five years ago:
"Thank you to all of the brave women who have come forward to share their stories and expose DOS," she wrote on Twitter. "I can't imagine how difficult this has been for you. I am deeply disturbed and embarrassed to have been associated with NXIVM. I hope that the investigation leads to justice for all of those affected."
TMZ and other outlets have suggested Mack, who played Chloe on Smallville, was a high-ranking member of NXIVM, or even Raniere's second-in-command, and she may have been present for his arrest in Mexico.
It's all a pretty bizarre and messed up story that's still developing, and it's a creepy reminder that no matter how flowery the empowering language sounds or sleek the inspirational materials may appear, things aren't always what they seem.