Kristin Cavallari was accused of body-shaming herself on Instagram, and she had a pretty biting response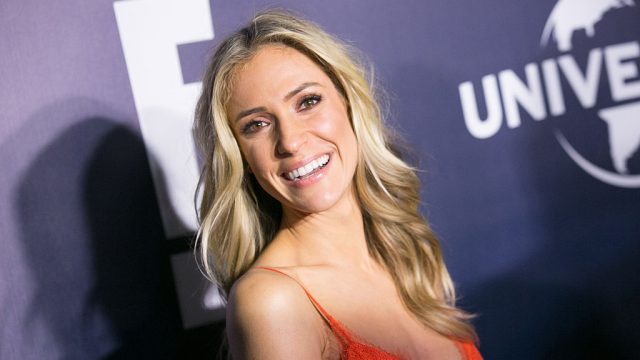 While we normal folks may get accolades and thumbs-up emojis from our friends with every selfie we post on social media, celebs know that when they post a picture of themselves, something about it will be criticized. Which is why the story of Kristin Cavallari allegedly body-shaming herself on Instagram is so layered.
On Wednesday, the former Hills star posted a snap of herself, sitting down and leaning on one arm, to promote her new shoes, the Lash Split Shaft Booties from her collab with Chinese Laundry. She captioned the photo in a self-deprecating way, writing, "Feeling it until I see the pic and see my crazy arm. Maybe next time I shouldn't lean so hard," with a crying-laughing emoji attached to it.
Immediately, Cavallari was accused of body-shaming herself.
Followers called her out for being too hard on herself or making it sound like she thought she was fat, when really, as she has since explained, she was pointing out the awkward angle of her arm. Something about the comments struck a nerve, because Cavallari clapped back at people calling her out. Her point? She can't friggin' win.
https://www.instagram.com/p/BWK9MEsjYVW
Cavallari wrote:
"I didn't say my arm looks fat, did I? No, I simply said it looks crazy (and I was joking around) because if I didn't say it, a thousand other people would have. If you took it as I was being critical of myself, then that's on you. I was in no way putting myself down nor am I upset about it in the slightest (obviously I posted it). How you interpret my words has nothing to do with me or what I actually meant."
She added, "Everyone needs to relax and have a sense of humor. I never once said I think my arm looks fat. And sorry, but I actually do think I am a good example for young women. I would never put someone else down over the internet for starters."
Earlier this year, commenters fat-shamed her husband, Jay Cutler, in an Instagram post. Last year, people said her kids were too thin and they looked hungry. She responded to both criticisms at the time in equally strong words.
What's especially cringe-worthy about this "drama" is that Cavallari felt the need to point something out about her body that could possibly be made fun of by people. She guessed correctly. Then, in the act of LOL-ing at the picture before others could take her down, she was shamed for being "self-conscious much?"
The moral of the story is that saying something mean to a celeb on Instagram or judging them is just like judging or shaming people you actually know. And if you come for Cavallari, she's gonna call you out on it. Be nice out there, people.