Kristen Stewart & her friend walk around NY in matching mini skirts and the slayage is real
Kristen Stewart stepped out in New York City on Tuesday and slayed the mini skirt game with her friend, and Cara Delevingne's ex, St. Vincent.
Stewart was in New York to promote and attend the premiere of her newest movie, Certain Women, at the New York Film Festival earlier in the week. When she was spotted on the streets of NYC on Tuesday, it's her matching style with her friend St. Vincent, whose real name is Annie Clark, that got us really talking.
The 26-year-old actress rocked a black mini skirt with a tied-up black tee with a white checkered pattern on it. She topped off her casual ensemble with classic lace-up Vans and a bright orange hoodie.
St. Vincent sported a similar look to Stewart as the duo enjoyed a fall day in the city. She also wore a black mini skirt, but opted for a vintage David Bowie T-shirt and bomber jacket with a unique eagle design. The 34-year-old musician added a pair of black loafers and blue neck scarf for the perfect retro look.
This isn't the first look from the Cafe Society actress that we've been in awe of during her week in New York. On Monday, Stewart showed off her ability to perfectly embody menswear style in a gorgeous red pantsuit. The Twilight alum finished her look for the Certain Woman premiere at the festival with black loafers and no top under her blazer. Plus, her red lip added just the right pop to the overall look.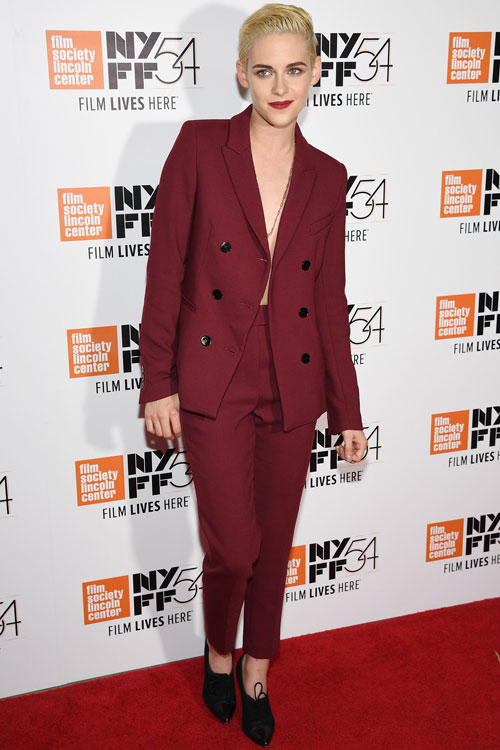 Seriously, she looked so fierce on the red carpet that we can barely handle it. #StyleGoals.
Which of Stewart's looks to do you like best?