Kristen Stewart reunited with her on-screen daughter, and it's making us miss "Twilight" something fierce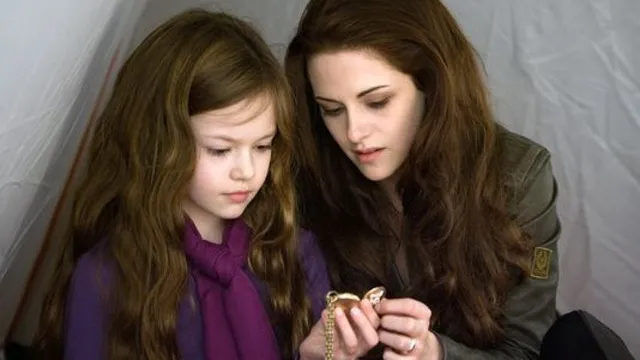 How cool is Kristen Stewart? Since the very beginning, she has floored us with her suaveness, her acting ability, and her personal style. Stewart was in a few movies as a child actor, namely Panic Room with the incredible Jodie Foster. But she truly became a household name in 2008. When she was cast in Twilight as Bella Swan, Stewart finally started getting the recognition she deserves.
The insanely popular book trilogy translated really well to the big screen. Though lots of people have moved past their ~Twilight phase~, loving the series is nothing to be ashamed about. It was a sign of the times, and when Stewart was in a relationship with her co-star Robert Pattison, it was such a simpler time.
Many of the actors in the Twilight franchise seem to have turned their back on it, but not Stewart. At a pre-Oscars event hosted by Chanel on Saturday, March 3rd, Stewart reunited with someone very important: Mackenzie Foy. Foy played Renesmee Cullen, a.k.a. Stewart's on-screen daughter. The duo snapped an adorable picture together at the party.
And our Twilight-loving hearts melted.
https://www.instagram.com/p/Bfxgk09gPw_
Foy is grown up and has a pretty rad career of her own.
It's so great to see someone who started out on Twilight blossom into a successful actress. Foy is 17 years old now and starred in Interstellar and The Conjuring. She has a few exciting projects coming up, including The Nutcracker and the Four Realms. Though she's only a decade older than Foy, Stewart looked like a loving big sis in the adorable picture.
Both Stewart and Foy look incredible and we love that they stopped to say hello to one another. We always hope former co-stars keep in touch, and these two look just as chummy as ever. Maybe Foy even asked Stewart for some motherly advice on her next career step?
Oh, Twilight. We will always love you.