Kristen Stewart just made a rare social media appearance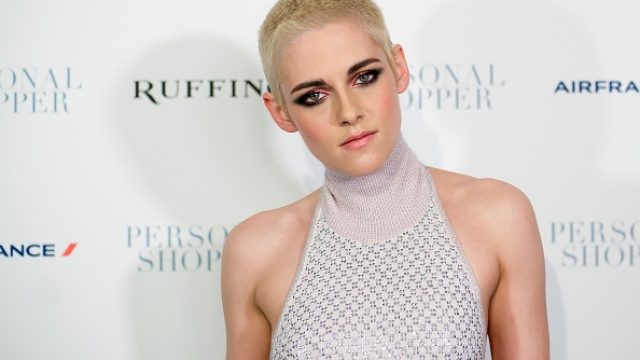 Put your internet-sleuthing hats on, because Kristen Stewart just broke her no-social media rule.
The platinum buzzcut-donning starlet made a cameo on Pretty Little Liars' star Ashley Benson's Instagram account, strutting her stuff while making an epic entrance alongside a group of friends. In the short video, Kristen and crew saunter on up to the camera in a jazzy fashion, set to the tune of a little old classic by the name of "ABC" by the Jackson 5. *(Good taste!)*
Clad in a silver-studded black leather jacket with a black bralette, cropped black trousers and monochromatic mules, a very stylish KStew makes an even more stylish dance cameo. Just watch for yourselves, folks!
By the looks of it (AKA, after some serious social media sleuthing), it appears Ashley and Kristen were both in attendance of their publicist Ruth Bernstein's wedding over the weekend. The joyful soiree, of course, included a star-studded guest list that no doubt included many an A-lister. Meaning that there was *probably* no shortage of fun personalities or silly performances, as evidenced by Kristen's swag-fused strut.
As for Kristen's presence on social media, or rather lack thereof, the César Award-winning actress isn't shy about her reasons for keeping quiet via Instagram or Twitter.
"I know I sound ridiculous and really obvious; everyone says this, and I sound like an older person, but we could be doing way cooler shit. It's so time consuming," the 26-year-old said in a Q&A with Harper's Bazaar for her flick, Personal Shopper, last year. "We stalk each other, I stalk people, I get stalked, we all get stalked."
That doesn't sound so ridiculous to us, Kristen!
*But,* if she should ever feel so inclined as to share a few social media posts with us here and there, we'd be absolutely thrilled. Because based on the above video, the girl knows a thing or two about creating a good viral post!