We all learned A LOT when Kristen Bell and Mila Kunis played 'Never Have I Ever' with their husbands
Ellen DeGeneres brought everyone's favorite sleepover game to daytime TV on Thursday and she had the best guests there to play it. Bad Moms stars Kristen Bell and Mila Kunis were surprised by their husbands Dax Shepard and Ashton Kutcher on Ellen's show and they all played a game of 'Never Have I Ever.' You know how it goes: each person was given a paddle with "We Have" and "We Have Never" and they have to answer some of Ellen's kinda-embarrassing questions.
Let's just say, we all learned a lot.
Ellen is probably the perfect person for this job, since she doesn't shy away from anything, even when it gets uncomfortable, like "Never have we ever hooked up on set." The answer?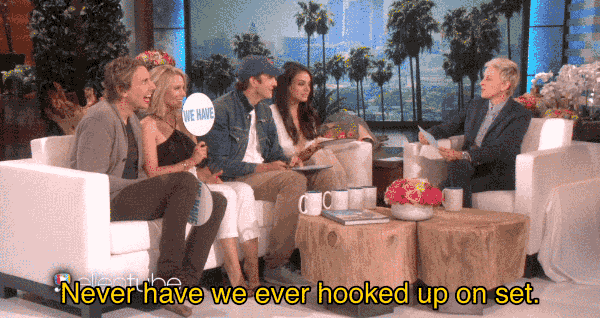 Some other things we learned: The couples have totally used each other's toothbrushes and also thrown out something of the other's that they hated. The one thing both couples haven't done? Been to a nude beach.
"Sorry guys," Dax said. "This Hollywood lifestyle is not as exciting as is advertised."
But that doesn't mean things didn't get a little racy. For instance, there was some debate after "Never have we ever fallen asleep making love," and even more after "Never have we ever been in handcuffs."
It's safe to say, these couples have done it all. Kristen Bell and Dax Shepard got married back in 2013 and have two adorable children. Mila Kunis and Ashton Kutcher wed just last year and have a son. These two women are anything but Bad Moms, but that doesn't mean we can't wait to see them when the film hits theaters on July 29ths.
Never have we ever loved any two couples more? Well:
Watch the full game below!