Kristen Bell and J.Lo are giving away $1 million dollars in this new show—but there's a catch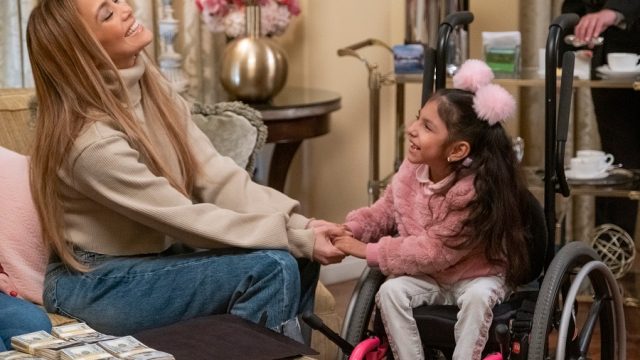 Our social-distancing selves have been so ready for the launch of the streaming platform Quibi on April 6th. Now, we're even more excited, given the recent news about one of its new shows. Quibi will launch with a brand-new series that asks the question: What if paying it forward began with giving back? Jennifer Lopez, Kristen Bell, and eight other celebrities have been tasked with giving away a total of $1 million to everyday people who made a huge difference in their lives. We're already crying just watching the trailer, so get ready.
Quibi calls the show, Thanks a Million, an "emotional and inspiring series" that "features grateful public figures who kickstart a chain of kindess," according to a press release to HelloGiggles. On each of its 10 episodes, a celebrity will gift $100,000 to someone who has impacted their life in a meaningful way. There's one catch. Those people must then choose another member in their community to split the sum they've received.
Jennifer Lopez executive produced Thanks a Million. (Because what can't J.Lo do?) Aside from Bell, Lopez is joined by Nick Jonas, Yara Shahidi, Karlie Kloss, Tracy Morgan, Aaron Rodgers, Gabriel Iglesias, Anthony Davis, and Kevin Hart.
"Everyday acts of kindness connect us in surprising ways," Kloss says in the trailer for the Quibi series.
But what really has us sobbing is Lopez's act of giving in the trailer. Watch the whole thing below.
Although the episodes will each be less than 10 minutes long (like all of Quibi's shows), there's no way you're leaving this show without tears in your eyes. And after being isolated from those who we love, we're definitely going to want to express love and gratitude in any way we can.
https://twitter.com/udfredirect/status/1245033364270153728
Both Quibi and Thanks A Million will go live on April 6th, so make sure to download the app to begin watching.